A Night of Magic and Wine
A Night of Magic & Wine with Magician David Minkin
There's so much to do in Orange County that sometimes it can be a bit overwhelming. We often fall into a tiresome routine—the same places and the same faces. You want something more than just another night on the town with friends. You need something different and exciting to add a little mystery to your life. You need something magical.
And David Minkin's "Evening of Enchantment" is just that.
This unique combination of wine tasting and close-up "table magic" has critics raving and guests completely mystified. It's the perfect double date night.
It also makes a wonderful evening out for small to medium groups of friends with open minds who want to be entertained. It really is the best combination of two of California's most endearing exports: wine and show business.
The Wine Tasting
A select number of guests reserve their place each month and are treated to an hour-long hosted wine tasting. Here you will sample a flight of four of some of the most interesting wines you'll ever come across. These vintages are expertly paired with small plate items designed to complement their exceptional flavors. Feel free to mingle or get cozy with each other as your taste buds are dazzled.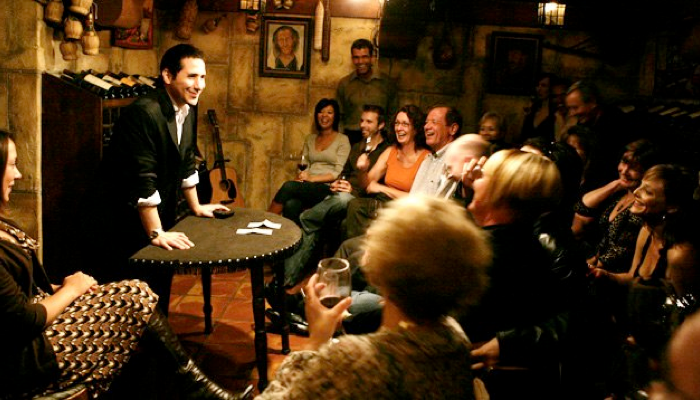 The Show
Next, everyone is escorted into a beautifully appointed intimate candle-lit theater where they get up close and personal with the magician. There David will get to know his guests and employ the mystical skills he has honed over the past decades to "make ordinary items do extraordinary things." If you've never experienced close-up magic first-hand, you simply can't imagine what you're in for.
It's one thing to see a magician on TV or on a stage, but when they make things happen right before your eyes–and within arm's reach–there's nothing quite like it!
The Man, The Myth, The Magician
David Minkin is an award-winning International Champion of Close-Up Magic. He has plied his unique brand of mystifying prestidigitation across the globe, competing in competitions and astounding guests from all walks of life. He has been featured on MTV and stars on the hit television series Magic Outlaws on The Travel Channel.
Indeed, his skills with sleight of hand and the natural charisma he exudes have propelled him to the upper echelons of the magic scene. He has performed for Hollywood Celebrities and Entertainment Icons like:
Johnny Depp
Lionel Richie
Sharon Osborne
Filmmaker Robert Rodriguez
And many more!
Make the Most of Your Magical Night Out
The rabbit is out of the hat. Minkin's unique interpretation of this ages old art combined with the intimate atmosphere and excellent appetizers earned David's "Evening of Enchantment" the title of "Best Magical Date Night" presented by LA Weekly.
But we can make your night out even more magical with one of our party buses. These flashy vehicles can take you and up to 40 of your closest friends, family, and coworkers out on the town in velvet curtain elegance. Make an astounding evening of wine and magic appear! Enjoy a cocktail party before you arrive. Mingle on the bus over a complimentary wet bar and get in the mood with music piped through the state-of-the-art sound system.
Arrive receptive and ready to enjoy the show—without having to worry about traffic or parking.
And after its over—when you're too amazed by what you've witnessed to drive home—our professional chauffeurs will make sure you don't disappear before you get to your door.
Plan you magical evening now. Contact us for special pricing and group rates today.