Beverly Hills Luxury Tour Bus
Places to Go and Things to Do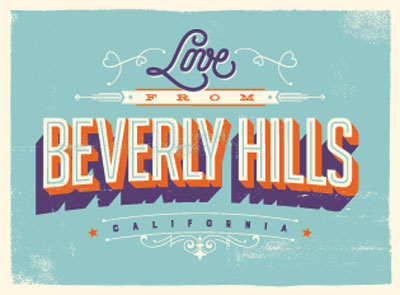 Beverly Hills has been the place to see and be seen since long before Eddie Murphy crashed the party. And it's not hard to see why. Not only is it still the home of Hollywood's rich and famous, the city itself has become quite an attraction with shopping, restaurants, bars, and clubs. There really is something for everyone here and if you're planning your next day trip or night on the town, Beverly Hills awaits!
If you want the full celebrity experience, let White Rose's professional chauffeurs take you on a Beverly Hills Tour in one of our luxurious limo buses. These are the perfect way to get a large group of friends or family from Point A to Point B in relaxed style and comfort. White Rose offers a variety of limo bus rentals in Beverly Hills to accommodate groups of any size—all the way up to 44 people! And while most people only think about renting a party bus in Beverly Hills for a tour or when they're planning a bachelor or bachelorette party, there are so many other reasons to go that extra mile and do something special.
Party buses are add a little excitement to corporate retreats, put the final touches on family outings, beat a birthday cake any day, and add an extra layer of glamour to a Sweet Sixteen, Bar Mitzvah, or Bat Mitzvah. Even if you're just sightseeing in Beverly Hills for the day, renting your own private party bus is so much nicer than cramming into one of those commercial tour buses.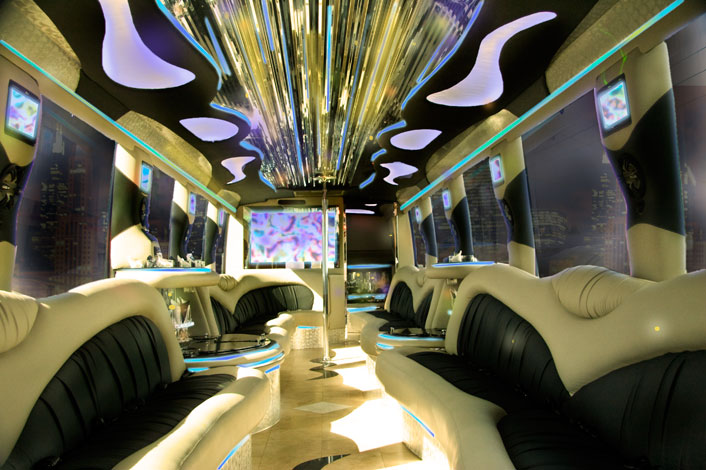 One of the best reasons to rent a party bus for the Beverly Hills tour is that you don't have to worry about anything. White Rose and our professional drivers take all the hassle out of your day trip. We deal with the traffic, find parking spots, and get you to and from your destinations safely while you relax and enjoy the experience. Still not convinced? We've got a few suggestions for what to do in Beverly Hills while you're riding in Style.
Sightseeing in Luxury
Sure you could get one of those "Maps to the Stars" and try to find all the locations yourself or shell out for one of those expensive group bus tours, but when you've got a large bunch of people travelling with you or want a little more privacy, renting your own party bus in Beverly Hills is definitely the way to go. You get leather seats, air conditioning, a surround sound system you can control, complimentary adult beverages or soft drinks, and your own personal driver!
Hotspots in Beverly Hills
Rodeo Drive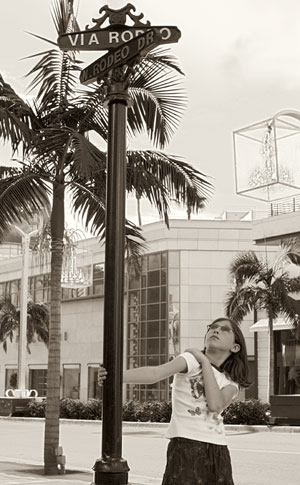 Pretty Woman, Beverly Hills Cop, and other blockbusters have made Rodeo Drive into the ultimate shopping Mecca in California. The high-end shops that line this stretch of pavement cater to celebrities, royalty, and aristocrats from around the world. Take the time to see what all the fuss is about or maybe even do a little shopping yourself.
LA Stars Home Tours
If you've ever wanted to see how the rich and famous live, Beverly Hills is the place to do it. White Rose can customize your Beverly Hills star tour for you and give you a little peek into the private lives of some of the world's most public people.
The Hollywood Walk of Fame
This memorial to Hollywood stardom has become an iconic stop along any sightseeing tour in the city. Find your favorite star's star and take a selfie to show everyone back home that you were really there.
Drinks, Dinner, and Dancing
There's no better way to end the day than having a few drinks and wonderful dinner at one of the first-class restaurants in Beverly Hills and the surrounding area. If you're still not ready to call it a day, there are plenty of nightclubs, bars, and hotspots to keep the party rolling well into the night.
Conferences and Corporate Gatherings
LA and the surrounding area may have gotten its big break because of the movie industry but there's a lot more business going on here than just show business. Conference and corporate retreat planners love the convenience of White Rose's Beverly Hills Limo Bus rentals for getting large groups to and from specific locations or organizing day long tours.
And what about the significant others? There's no reason they should spend the day cooped up in a hotel—no matter how nice it is. What about planning escapes just for them at the magnificent Greystone Mansion & Gardens or maybe a stop at the Virginia Robinson Gardens to get a taste of the fresh California sunshine? These "out-of-the-way" destinations are just a few miles from some of the most famous hotels and restaurants in Beverly Hills.
Reserve Your Beverly Hills Party Bus Today
The helpful staff at White Rose can give you the insider tips you need to help plan the perfect outing. Just give us a call and we'll reserve your Beverly Hills Luxury Limo Bus Tour no matter how large your group. Why rely on transportation that's just mediocre when you could upgrade to luxury? Leather seats, private entertainment, a complimentary beverage bar, and your very own personal driver!
Contact White Rose right away. Call 714-288-0066 or request a quote online.