Popular Wedding Venues Near Orange County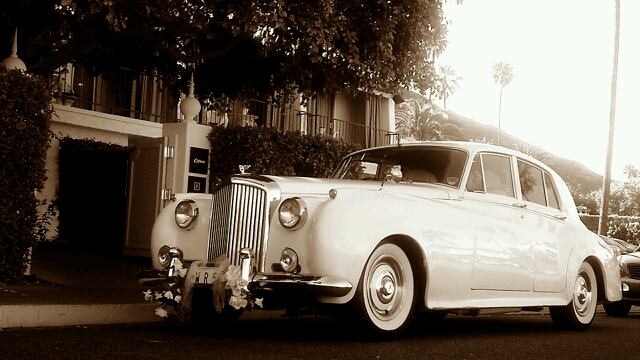 White Rose Limousine takes a LOT of brides to a LOT of weddings. That means we have the opportunity to see a lot of wedding venues in Orange County. If you're still in the planning phases or debating between venues, the list below will help you narrow down your options. It contains some of the best wedding venues in Orange County to which we escort some of California's most beautiful brides. And, if you still need a little help picking out your perfect wedding limo, we've thrown in a few suggestions as well.
Balboa Bay Club
Picture this: sailboats bobbing on the bright blue sea behind you as your groom and guests watch you walk down the aisle. The gentle sea breeze carrying your veil behind you as you say "I do." A reception under the stars as you and the new mister meet your friends and family for the first time as one.
If that seaside ceremony sounds unforgettable, the Balboa Bay Club may just be the perfect wedding venue in Orange County for your special day.
Our Mercedes Benz limo offers an elegant touch of classic style to complement an open air ceremony by the sea. Plus it provides a breathtaking prop for an amazing photo shoot after the ceremony as well.
Tivoli Terrace
The Spanish and Mediterranean influences are woven throughout this venue, from the dark woods carved in elegant archways to the bright flowers blooming all over the grounds. If you want your wedding to be enveloped in a romantic Old World charm, Tivoli Terrace offers a hacienda-style wedding venue unlike any other in Orange County. The attention to detail is simply stunning from the gorgeous stone fountains to the antique iron street lamps, and even the gauzy white roof of their outdoor reception tent is pitch-perfect.
Our vintage Bentley wedding limo perfectly matches that elegant antique feel created by the architecture and manicured gardens at Tivoli Terrace.
Our Bentley is another excellent option with its sleek lines and intimate interior.
Pelican Hills Resort
This super-elegant wedding venue affords brides an over-the-top luxurious experience at every turn. Sweeping views of the ocean (visible even inside thanks to the floor-to-ceiling windows), the romantic Mediterranean architecture of the building and outdoor gazebo, the terraced gardens stepping down toward the Pacific—it's a European dream come true right here in California.
A traditional stretch limo would fit in well here, but if you're a little more adventurous one of our SUV wedding limos can stand up to the larger-than-life exterior of this amazing Orange County wedding venue.
Pacific Edge Villa Laguna Beach
This amazing beachside wedding venue provides a relaxed, laid-back vibe in an intimate setting perfect for 40 or fewer guests. With the sand just steps from the front door and the Pacific Ocean as a backdrop, the Pacific Edge Hotel's converted beach home will make any ceremony, reception, or photo shoot unforgettable.
This is one of the "simpler" wedding venues in Orange County and our "traditional" wedding limos work well. The Lincoln limo or even the Lincoln Sedan would fit right in. But, since this is California don't forget about the statement-making Hummer limos we offer.
Electra Cruiseline in Newport Harbor
Fancy getting married on the water instead of by it? Electra Cruise Line offers a number of boats as wedding venues, from the sleek ultra-modern lines of "Destiny" to a lovingly restored riverboat renamed the "Newport Princess". You will have to limit the number of guests but their larger craft can hold well over 100 friends and family.
There's no better way to make a statement than getting married on your own private boat in Newport Beach! And our non-traditional wedding limos are a great match for the venue. Take a look at our Hummer limos or even one of our party buses—which can carry up to 44 guests at a time!
Rancho Las Lomas
Where else can you get married and then have your picture taken with a white tiger? This wedding venue in Orange County doubles as a luxury resort and wildlife refuge. The grounds are simply amazing but the main house is every bit as breathtaking with Spanish Colonial arches, a tile roof, and tropical plants hugged up close.
Our Bentley wedding limo is nearly always the one requested by brides who choose this exotic wedding venue for their ceremony.
Your special day is all about you. While our recommendations are meant to make your job of choosing a location and wedding limo easier, any of our luxurious rides would complement just about any wedding venue in Orange County.
Contact one of our experienced customer service representatives today to learn more and get all of your questions answered. Call 714-288-0066 today or request a free quote online.