Live Well with a Mindful Approach to Life
We all need to de-stress from time to time. Work, family, and daily obligations can add up and really drag us down. Stress affects our health, our weight, our minds, and our relationships. While nights out with friends and a few cocktails or a spa day are nice, they don't really address the central issue: we're simply not trained to deal with stress. Without that skill we will constantly struggle to live a balanced and centered life.
But there is a technique—or way of thinking—that can help us find balance and manage stress in a healthy way. It's called mindfulness.
What is Mindfulness?
Andy Puddicombe, author of Get Some Headspace a mindfulness manual, told the website Goop that
". . . there's almost certainly something about yourself you'd really like to change. It might be the way you think, the way you feel, or the way you look. Either way, living with that desire to change 24/7 can be both exhausting and challenging in equal measure."
Mindfulness teaches us to live in the present. We can't change the future, nor can we change the past. So why stress about either? The only thing you have control over is right now.
Realizing that is liberating!
You free yourself from doubt and regret and eliminate worries about what's to come. Somewhere during that process your mind actually teaches itself to slow down, think sequentially, and "deal."
What Does Mindfulness Do for You?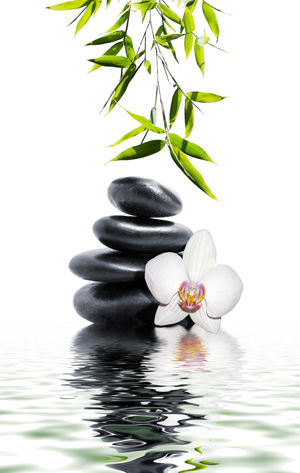 Living mindfully is a conscious decision—a habit even—that has real measurable results.
Mindfulness relaxation and meditation can:
Decrease anxiety
Improve sleep
Give you self-control
Help you focus
Help you quit smoking
Help you lose weight
But these aren't just claims. There is hard science behind them.
The Science Behind Mindfulness
According to Andy Puddicombe's website Headspace, there's tons of science to back up mindfulness.
163 scientific studies show that meditation can reduce anxiety by up to 90% and can benefit cancer patients, those with anxiety disorders, and even overeaters.
Harvard Medical School found that mindfulness-based relaxation habits before bed helped individuals achieve "slow brainwave patterns" essential for falling asleep fast and staying asleep longer.
Brain scans show structural changes to the areas which govern self-control after just 11 hours of meditation.
A scientific study showed that 20 minutes of mindfulness a day for four days helped people perform tasks measurably better under pressure.
Yale researchers studying addiction found mindfulness training was actually more effective than the American Lung Association's own smoking cessation program.
Take Mindfulness with You Wherever You Go
Mindfulness isn't something you do once a day and forget. The very nature of the training seamlessly incorporates mindfulness tactics and thought processes into your life. After just a few sessions you have a new skillset to call upon and a new way of looking at everything.
The real benefits of this easy-to-learn practice speak for themselves: less stress means better health, more happiness, and improved relations with coworkers, family members, and romantic partners.
Whether you want to lose weight, quit smoking, manage work-related stress, cope better with difficult coworkers and family members, or just strengthen the relationships you have with your loved ones, you owe it to yourself to live mindfully.