The Wedding Limousine – 5 Tips To Help You Choose The Perfect Fit
So many brides get in touch with us not really knowing what kind of limousine or party bus they want. Some choose based on looks, others on functionality…and others get their fiancés involved to help in the decision making process. If you're looking for the perfect ride for your special day, White Rose Limo offers everything from elegant limos to exciting party buses for your wedding.
Our vast fleet of limousines includes just about any style, size and color that you can imagine. Plus we provide some of the biggest and most exciting custom-built party buses for weddings in the OC!
Those choices can be a bit overwhelming at first, but most people decide immediately once they SEE our vehicles. Pair the perfect ride with our reputation for providing the best limousine wedding service in Orange County and your selection process got so much easier.
Just starting your search? Here are 5 tips to help you choose the best wedding limousine or party bus for your Orange County wedding.
1.  Choose a Style to Complement Your Wedding
The most obvious factor to consider when choosing a wedding limo is the style. That doesn't necessarily mean the style of the limo itself. Instead, consider how the chosen limousine will fit in with the rest of your wedding details.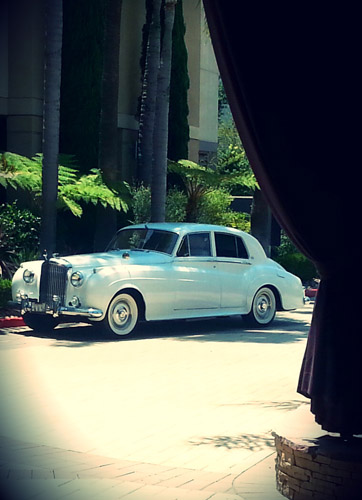 Are you having a romantic, traditional wedding at a grand estate? If so, our Bentley might be a better choice than one of our Hummer limos.
Are you having a fun, party of a wedding on board a dinner cruise ship or private yacht? Then the Hummer would work perfectly.
Have a huge group of friends you want to include in all the excitement but still want something stylish? Our wedding party buses can hold up to 44 passengers but every one is custom-built with elegant details like glossy exteriors, chrome accents, tinted windows, and luxurious interiors.
Still stuck? Our helpful service staff can help you decide which of our vehicles will best complement your perfect wedding.
2.  Choose a Size Appropriate for the Number of Passengers
Another important consideration is the size of the limousine. You will need to know how many passengers you plan to have in each vehicle. Some couples choose to ride alone in the limo while others like to include the entire wedding party. Some people even hire multiple rides to carry multiple parties to and from different venues.
White Rose Limo can meet your needs no matter the number of passengers that you have. We are one of the top providers of wedding limousines in Orange County and have all sizes of of limousines to choose from.
A typical stretch wedding limousine will hold around ten passengers—perfect for the bridal party. But if you're a non-traditional bride/groom and want to include the entire family and all of your friends in the pre- or post-ceremonial fun, a party bus is perfect for your wedding in Orange County.
White Rose offers multiple sizes of buses from shuttle-style buses right up through our massive motor coaches. These wedding party buses can hold up to 44 passengers (determined by average passenger size).
We'll make sure that you choose the limousine that comfortably accommodates all of your passengers.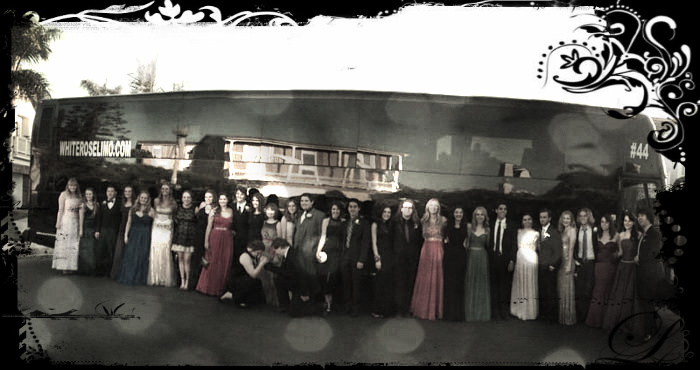 3.  Consider the Usage of the Limousine
Exactly how will the limousine be used? We've seen brides choose the biggest limo we offer just because they could. But what's the point when it only ends up going from the house to the church and not a single guest even sees it!
Other brides order a second limo to be used as a standby in case any of the reception guests have a little too much to drink—smart and considerate. A wise choice for this standby is the understated plain black Lincoln Limo.
If you plan on bringing everyone with you from the ceremony to the reception you'll need a party bus for your wedding. But don't fret—you can have the traditional ride as well. Reserve both! Use the wedding limo to get the bride and her maids to the church on time and use the party bus to bring everyone along after the show! You can even use the limo as a photo prop to snap some excellent wedding pictures.
Our experience and large fleet means that we can help match you with the best wedding limousine based on your plans for the special day.
4.  Keep within Your Budget
A few brides have a virtually unlimited wedding budget. Most, however, do not. Some think that to order a great wedding limousine in Orange County, you have to be willing to blow that budget. That's just not true.
At White Rose Limo we'll help you find the limousine or party bus that is not only gorgeous and a great addition to your wedding but also one that helps you stay within your budget.
And if you're thinking our wedding party buses are too expensive, you might be surprised. Call us at 714-288-0066 to get a free quote fast.
5.  Don't Underestimate the Importance of Great Service
What good is a great limousine at a great price if it shows up dirty and two hours late? Your wedding day is NOT the day that you want to have to call to find out where your ride is or why the wrong car showed up. We go above and beyond to provide outstanding customer service for every bride on her wedding day. And that service is every bit as important as the limousine you choose.
Whether you order an elegant and understated traditional limo or an over-the-top party bus for your wedding in Orange County, White Rose Limo's office personnel, service staff, and drivers provide the same level of detail-oriented personalized care to make your special day go off without a hitch.
Planning the perfect wedding in Orange County? Of course that means something different to every bride but White Rose Limo can help no matter what you've been dreaming about. Use these five tips to choose the best wedding limousine in Orange County or call 714-288-0066 to speak with one of our helpful staff members today.