Need to get away from reality for a bit? How about a "girl's night out" or a "guys only" getaway to recharge those batteries?
Get your friends together for little fun and rent one of our party buses in Huntington Beach. We offer multiple buses that can accommodate between 10 and 44 of your best pals. No worries about who has to DD, finding parking, paying for parking, or any other highway hassles. Just a leather-lined luxury ride for you and all your friends to a wonderful seaside town full of things to see and do.
Leisurely day at the beach or a hot night out on the town—you choose. We'll provide the wheels.
Why take your party bus to Huntington Beach?
This place was once known as Surf City USA and still holds onto that laid back beach vibe even as it has grown into a completely modern seaside escape. The main drag is loaded with restaurants and bars with plenty of opportunities for you and yours to eat, drink and make merry. Plus there are great little shops along the way if you feel the need to practice a little "Retail Therapy." But there's even more to Huntington Beach than that.
Birthdays and Pre-Wedding Parties
Cocktails in Huntington Beach
Got a group of girls together to celebrate a birthday or maybe a pre-wedding bash? You can rent one of our party buses in Huntington Beach and spend the day (and evening) letting your hair down. Start the afternoon off with some shopping, and then move on to dinner.
25 Degrees elevates the humble hamburger to an art form and lets you pair your beef with one of many martinis (including the crowd favorite cucumber) or the proprietary Red Head in Bed. From dinner we'll drive you to any of the many nightclubs in Huntington Beach and let you find the place that fits your groove. (Our personal favorites are Perqs for its classic dive bar feel and live music or Club Bubbles for a full on DJ dance party.)
And renting a party bus in Huntington Beach is the best way to take advantage of all the adult entertainment. Feel free to cut loose and remember our professional drivers will drop you off at your door safe and sound when it's finally time to call it a night.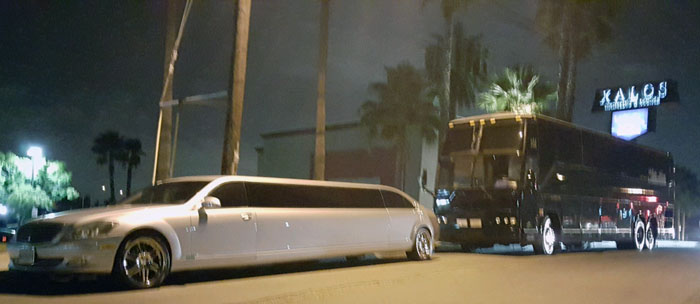 Outdoor Concerts and More
Summer is concert season in California and Huntington Beach is one of the best places to catch your favorite bands on stage. Pack a picnic and bring all your friends along—our largest party bus in Huntington Beach can carry up to 44 of them! We'll drop you off at your destination which means no worries about traffic, tolls, parking, or hiking to the venue from miles away.
When the concert's over give our driver a call and he'll pick you up at the gate and shuttle you and your friends to the downtown strip so you can continue the party well into the night at one of Huntington's best bar or dance clubs.
Need a little relaxation after your concert? Pack some blankets and bring the party down to the beach. Our party buses stay in Huntington Beach with you at the ready for the entire evening.
The Quintessential California Coast
If you're into fresh sea air, sand, and such Huntington Beach is the place to be. It truly is the quintessential version of the California coast that's captivated natives and visitors alike for generations. The city hosts numerous family-friendly events throughout the year and there are plenty of opportunities to take advantage of the natural beauty as well.
Plan your day outside! Start at Central Park and ride horses, walk the fitness trails or take in a round of golf. Then head off to a casual bar like The Harbor Rackhouse for a game or two of pool and a few beers.
Why not dip into the local music scene at pretty much any bar along the strip? (This makes a great low-key bachelor/bachelorette party, but you can ramp it up at any point with a quick stroll down the street.)
Reserve Your Party Bus in Huntington Beach Today
White Rose has been in the business of fun and excitement for years and we take your relaxation time seriously so you don't have to. When you rent one of our party buses in Huntington Beach, we handle everything—you just enjoy your day or evening on the town. Let us help you plan your next party, weekend getaway, or night in Huntington Beach. Reserve your ride today. Call 714-288-0066 now or request a quote online.
Looking for something more intimate? Check out our Huntington Beach limo rentals!