LA has one of the hottest night club scenes in the entire country and you owe it to yourself to get out, explore, and have a little fun. You and friends can easily (and affordably) rent a party bus in Los Angeles and hit up famous clubs like the Viper Room, Create Nightclub, and Mood or laid back bars like The Association, the Chateau Marmont Bar, and High overlooking historic Venice Beach. And the best part is you don't have to worry about driving—so have as much fun as you want!
Party Hard, Ride Safe
Not only is renting a party bus in Los Angeles responsible it's the best way to make the most of just one night on the town. Roll up to the club like a VIP wrapped in luxury leather with tinted windows so dark nobody can see in. Your entire entourage can relax and forget the work week or cut loose and make some unforgettable memories without any worries.
And White Rose's party bus rentals in Los Angeles ensure the party don't stop until you say so. Our rides come fully equipped—like full-fledge nightclubs on wheels! Leather interiors, explosive sound systems, light shows, a complimentary bar . . . even dancer poles in case things get a little wild.
And the best part about the bus is it's yours for the entire night—perfect for bar hopping or hunting down that killer club scene.
When it is time for the party to wind down, our professional drivers get everyone home safe and sound. Rent a party bus in Los Angeles and give your guests a ride they'll never forget.
We Can Dial It Down Too!
But these rides aren't just for out-of-control bachelors or bachelorettes. Renting a party bus is an easy and affordable way to get large groups (of up to 44 people) to and from wherever you need to go in Los Angeles. Birthday parties, family reunions, school groups, corporate team building events, social club road trips—everyone deserves a little luxury.
Hitting a concert at the Echoplex or the Troubadour? Our Los Angeles party bus rentals are the perfect ride for you and all your friends. School group need a ride that's a little more accommodating than a big yellow bus? Call us. (The poles are removable and the bar can be stocked with soft drinks of your choice!) And we are SPAB certified. Company sending you off for training or seminars? A party bus in Los Angeles can help you blow off some steam after a long day in a conference room or lecture hall.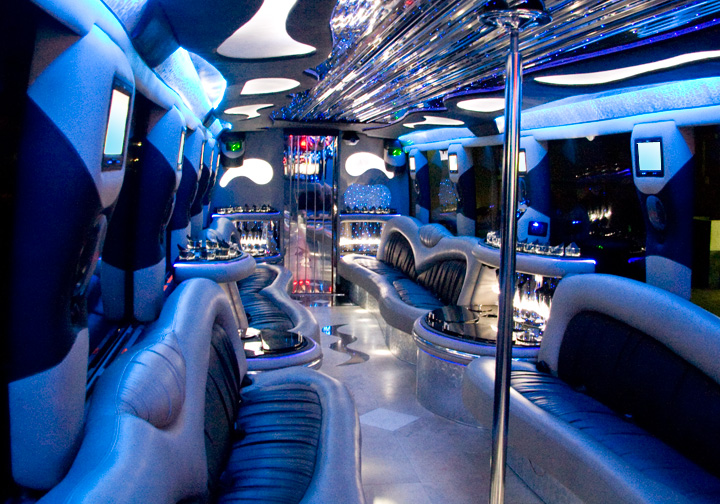 White Rose even offers customizable party bus tours outside Los Angeles so you can plan the perfect getaway anywhere in Southern California and Las Vegas.
Whether you have something in mind or would like a little help planning your perfect day (or night) on the town, White Rose can help. We'll hook you up with the perfect party bus in Los Angeles for wherever LA takes you. Contact us today.