Party Bus Rates: What To Expect (Part I of II)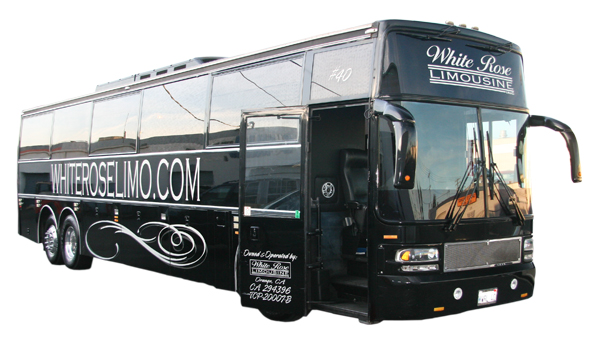 We want to provide the party bus for your next big event. White Rose Limo offers premium services at a reasonable price; we have a selection of party buses and rates to fit your budget.
We know you've got questions about what to expect with your party bus rental and pricing. So, we've gathered information we think you'll want about our services and compiled in a 2-part post. You want your event, whether it's a wedding, bachelor party, or other special event, to be a night to remember. We do too!
Q: When I rent a Party Bus, what's included in the party bus pricing?
We like to offer you a package deal, so you have fewer details to worry about when you rent a party bus. Our rates include a 15% gratuity for the driver, and a stocked bar, with a bottle of bourbon, vodka and champagne, ice and basic mixers. The bus will pick up and drop off at your desired designation and wait during the entirety of your event. We are happy to pick up passengers at one central location or separate locations; you just need to let us know. As part of our basic party bus rates we provide a stereo system and a DVD player-both iPod and laptop compatible.
Q: Can I order flowers and chocolates? Is this pricing extra?
White Rose Limo doesn't provide these extras as we know you want to choose your own vendors. Customers are welcome to decorate their limo or party bus with flowers or other decorations for weddings and festive occasions. We would be happy to work with someone in your party in making these arrangements. If you're renting a party bus or limousine for a wedding, we will roll out the red carpet, quite literally. We provide champagne for the bride and groom as well. A wedding is a special time, and we want it to be a memorable occasion. These services are included in the standard party bus prices.
Q: What is the standard tip for a party bus?
Rates include a standard tip, 15% of the quoted rental price, which is included in your pricing. Many customers like to give an extra 'thank you' to their driver – please feel free to do so. Our drivers are professionals, dedicated to making sure you arrive safely and comfortably at your event. You'll find their services are worth every penny.
Q: Does hourly time include wait time?
Yes, our driver will always be there, waiting to take you to your next destination. While some other Party Bus companies do not extend this courtesy, White Rose charges in half hour increments. If your event lasts beyond the scheduled time we charge in thirty minute increments. But, you can be assured that if it's just a few minutes, we're not going to charge you. If you're 20 minutes over then we add the ½ hour.
These are just some of the questions we frequently get asked regarding the party buses. Check back soon to get more answers about party bus rates, pricing and services in our second part post.