Party Bus Rates: What To Expect
You've got questions about what to expect with your party bus rental and pricing and we've got answers!
Q: When I rent a Party Bus, what's included in the party bus pricing?
White Rose Limo offers package deals with every party bus rental so there are fewer details for you to worry about the day of. Our rates include a 15% gratuity for the driver, and a stocked bar that includes a bottle of Bourbon, Vodka, Champagne, ice, brand name sodas and basic mixers. Our Party Bus will pick up and drop off at your desired designation and wait during the entirety of your event. We are happy to pick up passengers at one central location or separate locations; you just need to let us know.
Our 30-passenger party bus rate is for the Mini Bus that  fits up to 30 passengers (depending on size of course) and includes the following amenities: surround sound stereo, 4-color fiber optic lighting, strobe lighting, multiple screen TVs, removable dance poles and, of course, a stocked bar.
Our #40 and #44 party bus rates are for the most Luxurious Party Buses we offer. They both fit up to 44 passengers and include all the amenities from the Mini Bus PLUS: a private VIP room, on-board restroom, laser lights, fog machine, massive big screen TVs,  and two stocked bars!
Newly added to our fleet is the stunning Mercedes Benz Sprinter limo bus that fits up to 16 passengers. Amenities include: color changing lights, flat screen TVs, laser lights, multiple USB charger outlets, bluetooth stereo and a complimentary beverage bar.
Q: Can I order flowers or other decorations? Is this pricing extra?
You certainly may order flowers and decorations from the vendor of your choice. Coordinate with us so we can ensure the party bus is decorated to your liking before pickup. So long as you pay for the decorations, there is no extra fee for us to decorate the bus. However, often times our customers choose to decorate the party bus themselves.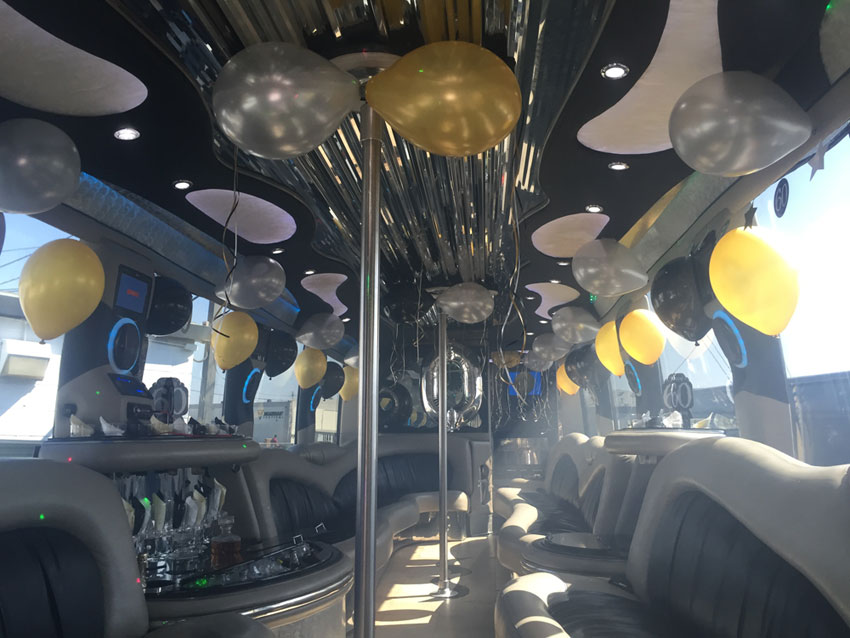 Currently only wedding party bus rentals get the red carpet rolled out – but it is available for any rental – just request it and we'll include it in your standard party bus price.
Q: What is the standard tip for a party bus?
Rates include a standard tip, 15% of the quoted rental price. This is included in your pricing. However, many of our customers like to give an extra 'thank you' to their driver. Our drivers are professionals, dedicated to making sure you arrive safely and comfortably at your event. You'll find their services are worth every penny.
Q: Does hourly time include wait time?
Yes, our driver will always be there, waiting to take you to your next destination.
Q: Is there a cancellation/rescheduling fee?
Most contracts include a standard 30% cancellation fee. But, we know that things come up and plans have to be changed. If you can call early enough and we're able reschedule the reservation, White Rose Limo will often waive the cancellation fee.
Q: Do you charge a reservation fee?
No. We want to get your event on our schedule early enough to ensure that you have the right vehicle and time for your event, but we do not charge for the reservation.
Q: Do the rates for party bus rentals include alcohol?
If the customer is over 21 years of age, the stocked bar is included in the rental price. Beverages consist of Vodka, Bourbon and Champagne along with ice and basic mixers. We're also very accommodating to special requests. It's fairly common for customers to request specific beverages. In those cases they give us a list and we fill the order. For these special requests they pay for the extra items, not our time.
If the party is under 21 years of age or upon request we stock the bars with non-alcoholic beverages.
Q: Is there a minimum number of hours required for renting a party bus?
Yes, we have minimums which vary according to the day of the week, season, and sometimes holidays. A party bus rental for Friday and Sunday requires a five hour minimum, for Saturdays there is a six hour minimum. Monday through Thursday there is a four hour minimum requirement.
Q: Are there days of the week when I can get cheaper rates?
Sunday through Wednesday is when you'll get our cheapest party bus rates. Get in touch and tell us what your needs are, how many people you want to bring along and we will work with you to find the best price for your group.
Q: What is the difference between the Sprinter, Mini and Luxury Party Bus?
Aside from the space and ability to accommodate more people, the buses vary in the degree of luxury and amenities. Our 44 passenger luxury party buses feature 2 dance poles, a private VIP room, and a bathroom. The luxury bus is a motorcoach fitted with marble flooring, state of the art lighting and a host of other amenities. It's one of a kind that no other limousine or party bus company has! The 30 passenger mini bus has carpeted floor, no back room, bathroom or fancy amenities; though it's a lot of fun.
Hopefully we've answered your questions about party bus pricing. If not, call us at 714.288.0066! We'd love to meet you, even show you are buses in person and hopefully earn the opportunity to serve you!