Make the Most of Your Little Woman's Big Day!
The Quinceañera is one of the most important days in a young girl's life. It's her coming out party, the day she steps into young womanhood and begins the wondrous journey life has planned for her. It is a day she shares only with her closest friends and family and as such it should be one nobody will ever forget. And while the celebration may have sprung from humble roots, modern Quinceañeras are nothing short of amazing with beautiful ball gowns, jewelry, and decorations befitting a princess. If you're a stressed out parent (or Godparent) we're here to help you with unique decoration ideas for your Quinceañera that are festive and affordable.
Lighting
You don't have to spring for a ten thousand dollar lighting kit when a trip to your local hardware or discount store will do. Christmas lighting is available in any color combination you could ever dream of and provides a subtle glow that can create a dreamy "starry night" ambiance. Use specialty or novelty lighting to create effects like strobing or even color changing! Dress the wired lights up with colored tulle or tie to the chair backs and drape doorways. Need centerpiece lighting? Battery operated candles give all the allure of the real thing without the danger of open flame—plus they're reusable.
Party Backdrops
Colorful paper, photo, and decorative stage backdrops enhance the festive atmosphere of any Quinceañera and create instant photo opportunities. And if you're planning a Quinceañera on a budget, you can find these great backdrops in a variety of different materials from thick vinyl to cardboard at a variety of price points.
Balloons
Most people think of children's birthday parties when they see bright balloons but with a little shift in your color palette or a few inflatable statement pieces (like giant heart-shaped balloons) you can create any sort of ambiance you want.  Dream in elegant colors like champagne, ivory, silver, and gold or add a splash to accent your young lady's Quinceañera dress. And when it comes to balloons, more is better—they make a big impact and cost pennies apiece.
Fabrics
Your fabric choice can create an entire theme from chic and trendy to warm and festive. But you don't have to limit your fabrics to the table cloths. Think seat covers, draperies, and curtains to accent the guest of honor on center stage. Stylish fabric in a variety of shades can be used to cover walls, ceilings, windows, floors and yes, even tables. And, like the other Quinceañera party decorations you can go all out or stay frugal with the fabrics.
Centerpieces
Centerpieces are a must for every table but not every centerpiece has to be extravagant. Pick a handful of "feature centerpieces" (depending on the number of tables you're using) on which to really splurge and dial back the style or size on the rest in order to save some dollars.  Keep in mind floral centerpieces are great but pottery, statuary, or candelabras may be more affordable.
Don't Forget the Ride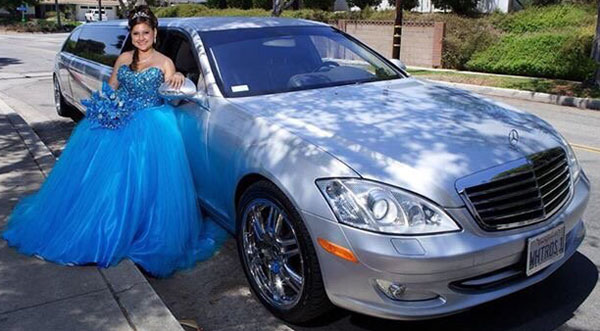 Limousines have become an essential element of almost any Quinceañera but sometimes those rental cars can all look the same. Take some time when choosing the perfect limousine rental for your Quinceañera. White Rose Limo offers elegant Quinceañera limousines in a variety of sizes and styles from sleek and classic to elegant and vintage.  And don't forget to decorate the inside. Our helpful staff can arrange for your car to be ready in plenty of time to add those special finishing touches to the interior.
(Worried about picking the perfect car? We can help with that too. Get a free quote online or call 714-288-0066 today.)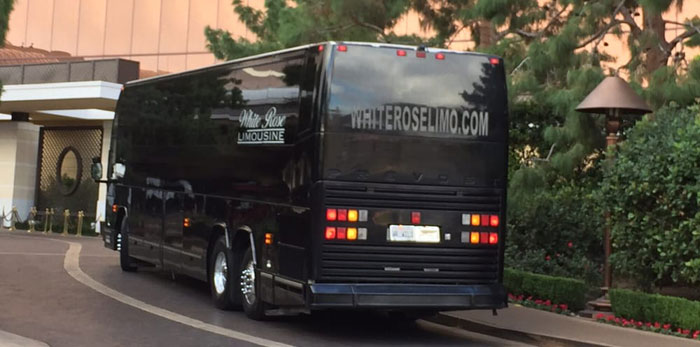 Let Your Imagination Run Free
Quinceañera fantasies running wild? Your budget doesn't have to. When it comes to Quinceañera decoration ideas there are always lower cost alternatives to your first choice. So shop around and save some money without giving up on any of the impact.