Limo Bus Rentals
Weddings, bachelor/bachelorette parties, prom, romantic getaways, family fun days—you have a whole world of transportation options available to you. But when you want to do something right, make it an occasion not just something that happened, you should dress up your ride a little–arrive in style. That means a limo rental, right? Sure, but what happens when your VIP list outgrows the car?
What do you do if you want to take the party on the road between stops or think "wouldn't it be great if we had a rolling dance floor?"
Maybe it's time to consider limo bus rentals instead…..
Size Matters
Does your wedding party barely fit in the church?
Did your cousin tell his cousin who told her boyfriend that you were thinking of going out Saturday night with a bunch of the girls?
Is it your birthday and everyone wants to help you celebrate?
Let's face it, sometimes things get a little out of hand. If you're planning on taking 10, 15, 20 plus people along for the ride a limo might not cut it.
Limo bus rentals let you accommodate up to 45 people comfortably. You won't have to worry about people sitting on each other's laps, elbows in the face (or in your drink), or knocking knees. Plus there's room to spare. How much? Some of our larger party buses are equipped with custom-molded upholstered couches, a fully stocked complimentary wet bar, a dancer's pole (removable), and a private VIP area.
But It's What's On the Inside That Counts
You're thinking "a bus, though? Isn't that a bit . . . boring?"
Not our limo bus rentals. We're not talking about a converted school bus or one of those drab old motor coaches that shuttles retirees off to bingo. These are fully equipped party buses on the inside and sleek elegance on the outside.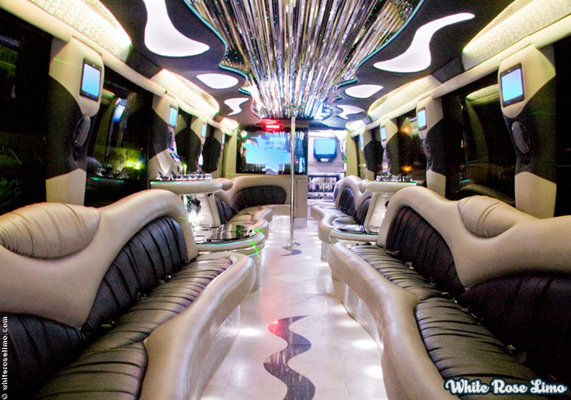 Every one of our limo bus rentals is custom-built right here in California to exacting specifications. Changeable LED and laser light shows, leather interiors, marble flooring, massive flat screen televisions, a state of the art sound system, and the aforementioned wet bar make each ride unlike anything you've ever experienced before. They really are like nightclubs on wheels.
Worried about what they look like on the outside? (After all, isn't half the fun of arriving in a limo the big reveal—you stepping out of that luxurious ride like a celebrity?) Don't be! Our limo bus rentals are sleek and sexy on the outside as well. We're talking gloss black exteriors with thick, heavily-tinted windows, all wrapped in shiny polished chrome. They even roll on chrome rims buffed so brightly you can use them to check your hair.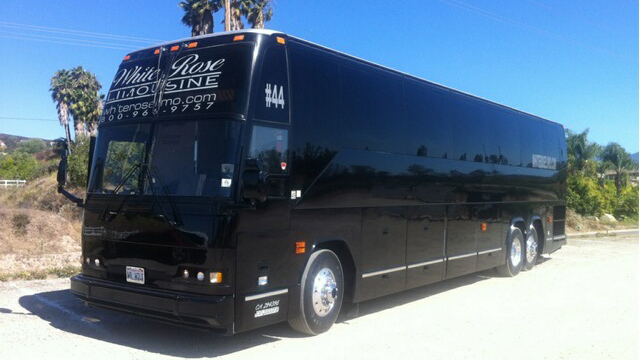 Upsize your Ride with Limo Bus Rentals in the OC
If you're not yet convinced you need a limo bus, try cramming 30 of your closest friends into a regular stretch limo for your bachelorette party, prom, or wedding reception. It's going to get scary fast. I promise!
But seriously, White Rose can help you find the right limo bus rentals for your needs and can accommodate parties of any size from 25-30 passengers up to 45. We're based in Orange County but service all of California and are licensed to operate in Nevada as well (did someone say Vegas?)
So whether you're planning a wedding, a family or class reunion, a corporate retreat, or just one heck of a Saturday night, we've got your back.