Old World Huntington Beach's Oktoberfest 2016
In Germany and other parts of Bavaria Oktoberfest is traditionally a time of celebration to give thanks for bountiful harvests and healthy livestock before the cold winters set in.
But you can experience an authentic German Oktoberfest right here in sunny Southern California!
For the last 39 years Old World in Huntington Beach has brought authentic German beer, food, and music to the California Coast. This family-friendly festival runs for nearly two months (September 11th through October 31st) and features food, drink, and live entertainment for all ages–including adorable wiener dog races!

The Beer
Beer has been an integral part of Oktoberfest since the beginning. And German beer is among the best in the world. Brewed in strict compliance with the Reinheitsgebot (Purity Law), it's known for clarity, crispness, and only the best ingredients.
(This year Oktoberfest in Huntington Beach will feature brews from: Spaten, Hofbrau, Warsteiner, Bitburger, and more!)
The Food
What would an authentic German celebration be without food (and plenty of it)? Huntington Beach's Oktoberfest at Old Town is known for serving the "Best Bratwurst" in California in addition to traditional snacks and sides like pretzels, spätzle, and sauerkraut. Enjoy beverages and hearty fare at the authentic German Restaurant.
The Oktoberfest "Shot Girls"
And serving up all the sudsy goodness will be Oktoberfest's gorgeous Shot Girls dressed in (not-so) authentic costumes. It's their job to make sure everyone has a good time. They'll be making the rounds, interacting with guests, and ensuring the beer never stops flowing.
Live German Music
Four distinct live bands will be providing traditional music throughout the festival. From Oom Pah, to Polka, to favorite drinking songs and more, these talented musicians (many of whom make the trip from Germany every year) will delight guests young and old.
Schedule of Events
The opening Day Parade on September 25th marks the official beginning of Oktoberfest. Come see people in brightly colored costume, gorgeous Shot Girls dancing through the street, and the marching bands blasting their big brass instruments.
Fridays and Saturday nights Oktoberfest in Huntington Beach is adults only (21+). But any other time the event is family-friendly. In fact, Sundays are family days with the special Kinderfest program for children. And Sundays culminate in the hotly contested (and much-loved) Weiner Dog Races!
(Check the official schedule for special pricing, senior discounts, and more.)
Bring a Friend (or 40)
This traditional Old World-style festival is best enjoyed with friends and family. White Rose's party bus rentals in Orange County can make getting you and the whole gang to and from Oktoberfest easy. Our luxurious buses can hold up to forty people and provide elegance, air conditioning, and complimentary beverages (adult or otherwise) for the ride. We'll pick you up at your door and drop you right back there when you've stuffed yourself with all the beer and bratwurst you can handle.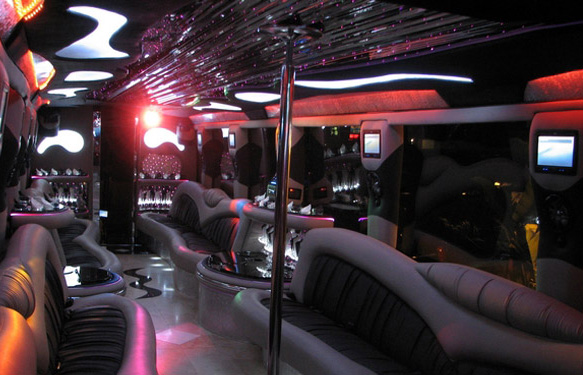 Plus, when you split the cost between friends, it may be less than paying for tolls, gas, and parking!
So, get your Oktoberfest Tickets online then get in touch with us to reserve your private party bus or limo in Huntington Beach. Call 714-288-0066 today!