Holiday Luxury Transportation Services
---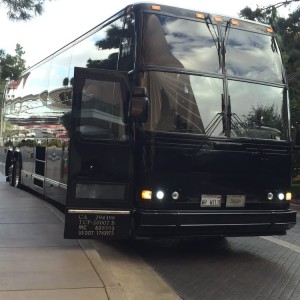 The holiday season is a wonderful time to reconnect with family and friends—to be thankful for the joy the previous year has brought and that which the next is about to deliver. No matter your faith or beliefs there's always something amazing to celebrate . . . and somewhere to go. But travel during the holiday season can be stressful. Let us take that burden off your shoulders so you can enjoy the holidays a little more.
With our holiday party bus and limousine rentals in Orange County and beyond you get the best of the season: luxurious, relaxing travel in comfort and style for the whole family without the worries. Whether it's taking that special someone away for a romantic rendezvous in the middle of the hustle and bustle or creating a new annual tradition for the entire family we have exceptional holiday deals for you. Request a quote today.
Thanksgiving
Thanksgiving is a day for families to come together over a great meal and celebrate the gifts generations have bestowed upon them. But getting the gang together on that specific day is a challenge—especially when wrangling multiple generations. When the kids have kids, get married, or move away it can be impossible to get everyone around the dinner table. But a little out-of-the-box thinking can create a memorable Thanksgiving any day. (Plus you get better rates on car and bus rentals during the week!)
Rent one of our limousines in Orange County any time in November for luxurious first-class travel anywhere in California, Nevada, or Arizona! Take everyone out to dinner at your favorite restaurant or to a show in Vegas—let your imagination guide you. No cooking, no mess to clean up, and airport pickup service available for family flying in from away.
Christmas
It may be difficult to find a Winter Wonderland in The OC but you can get the whole family into the Christmas spirit with customized Christmas Light Tours throughout the month of December. From the festively decorated neighborhoods in Laguna Niguel and Mission Viejo to the truly spectacular Holiday Light Boat Parade in Newport Beach – the best way to see it all is from the luxurious comfort of a party bus.
Our holiday party bus rentals in Orange County come equipped with cozy leather seats, surround sound (to blast those favorite carols and Christmas classics) and a beverage bar so you can mix your own favorite seasonal cocktails. You bring the beverages and we'll provide the glassware and ice. Relax with the whole family (up to 40 people*) as you travel anywhere in California or even beyond in search of the perfect festive light display!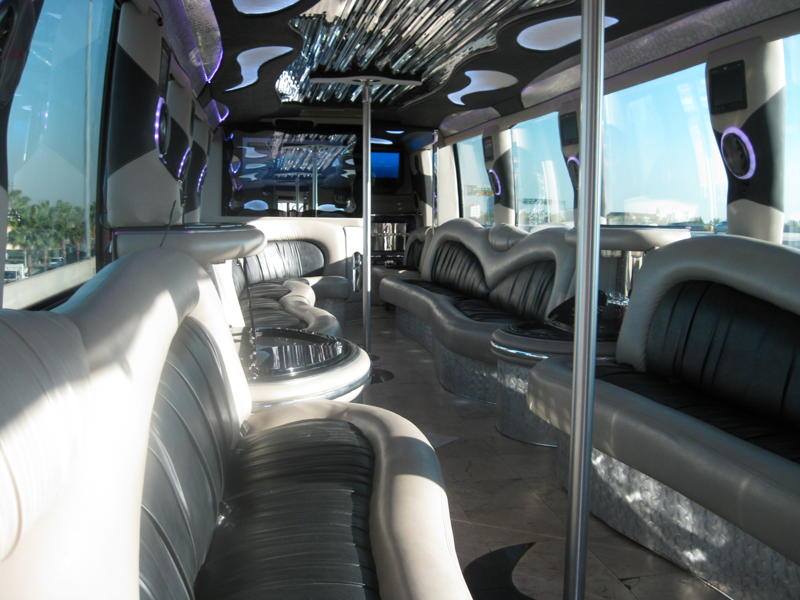 Hanukkah
While your idea of the perfect Hanukkah celebration may not involve "Eight Crazy Nights," there are plenty of opportunities in Orange County and beyond to get out of the house and celebrate Hanukkah with family and new friends. From the Chabad of Laguna Niguel ("a blizzard of holiday fun for the whole family") to the song, dance, and celebration of the Irvine Spectrum Menorah Lighting Ceremony to the lunch and dinner Hanukkah Feast at the Pelican Hill Resort there's something new to experience around every corner.
Community and fellowship have always been central to the Festival of Lights—a testament to the resilience of the Jewish faith. We can arrange travel in comfort (with cozy seats and plenty of room for big families and Temple groups of ten to 40 people). Request a quote to reserve your limousine or bus for Hanukkah today. And if a destination celebration is in order let us do the driving. You don't have to worry about traffic, parking, or carpooling with far-flung relatives.
Ringing in the New Year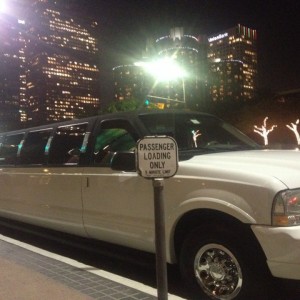 New Year's Eve festivities are your opportunity to cut loose and ramp up the excitement for what waits at the end of that countdown. Whether it's been a wonderful year or a not-so-wonderful one for you, New Year's Eve is the time to make a fresh start—and that's something to celebrate! Drinks, dancing, good times with good friends, maybe a little romance . . .
When you ride with us to your favorite holiday hotspots, you don't have to wait until you get there to party. Our holiday party bus rentals accommodate up to 40 people*, include state-of-the-art sound systems, dancer poles and laser light shows! So let the bubbly flow (that you brought) and when you've completed the circuit of nightclubs and kissed someone special at midnight, we'll drop you off safe and sound at your doorstep!
The Holidays are About Family
Regardless of which holidays you celebrate, gathering those we love together has always been at the heart of holiday season. Unfortunately so is the stress. Where is everyone going to sleep? What's on the menu? What about that "family friction?"
Our holiday party bus rentals in Orange County can't eliminate all of the hassle but they can be the icing on that something spectacular that makes this holiday season amazing. Create memories your family and friends will cherish for years! Give us a call (714-288-0066) or request a quote online to reserve your holiday party bus rental in Orange County today.
Black Friday Deals Every Week!
Forget waiting for Friday to get the best deals. You could save a ton by scheduling your special holiday outings during the week. Our holiday limousine and party bus rentals in Orange County are available at a significantly discounted price Monday through Thursday. So make those amazing holiday memories without breaking the budget! Call 714-288-0066 today.
*How many people fit comfortably depends on the size of passengers