VIP Party Bus
---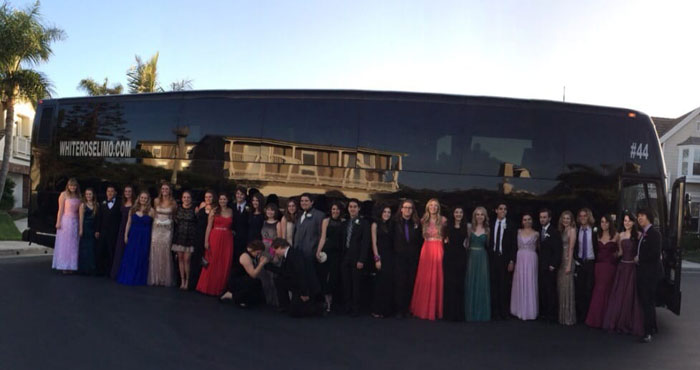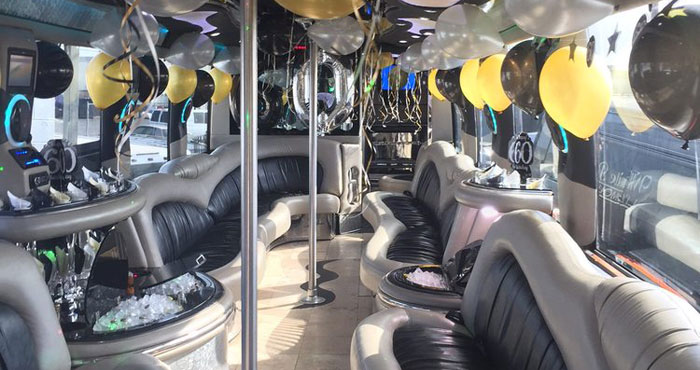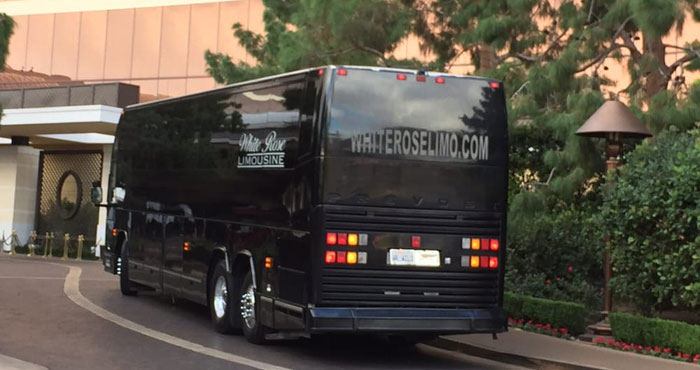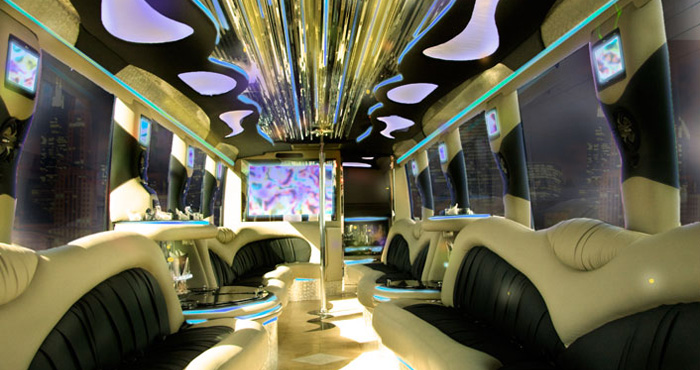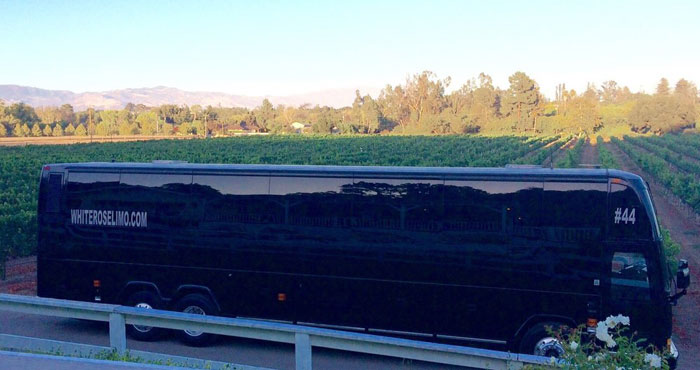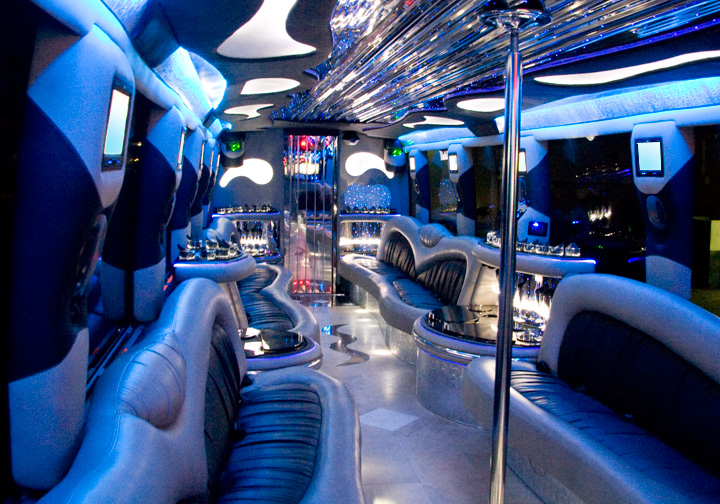 Y
ou may think finding a cheap
Party Bus rental in Orange County
is impossible. Worse yet, you may have even convinced yourself you have to "settle" for some second-rate ride just to get a good deal. Thankfully, you don't.
At White Rose Limousine – even our cheap 44 passenger Party Bus is top of the line Luxury! Located in the heart of Orange County you'll find this party bus is perfect for just about any occasion—from proms to bachelor/bachelorette parties and everything in between. And we never skimp on the extravagance or the extras.
Party Bus Features:
Our 44 passenger Party Bus is custom-built to provide the one-of-a-kind ride you'll never forget.
Holds up to 44 Passengers depending on the size of the passengers
Sleek Black Exterior w/ Classy Black & Tan Leather Interior & Tinted Windows makes you feel like a VIP
Kicking Surround Sound w/ Thumping Sub-Woofers & Powerful Amps
Multiple LCD screen TVs to display home movies, Hollywood Blockbusters, music videos, and more!
Removable Chrome Dancer Pole(s) so you can show off (or sit back and watch the show)
4-Color Fiber Optic Lighting lets you set whatever mood you want (and Beats to Music)
Strobe Lighting dials the excitement to eleven
Laser Light Show & Fog Machine
On-board Bathroom (to Keep the Party Rolling)
Private VIP Room at the Back
Marble Floors w/ Under-Seat Lighting
Custom Rims (So Everyone Sees How You're Rollin')
Beverage Bar (so you can enjoy whatever personal favorites you bring on board)
This Luxury Party Bus is a cheap way to transport up to 44 passengers in comfort. It's great for any kind of party, celebration, family event, or corporate gathering. Whether you're travelling long distances with a number of people across Southern California or just discovering all that Orange County has to offer, this Party Bus offers an out-of-the-ordinary option for an affordable price.
Wedding Day Special!
When a bridal party rents this Party Bus for transportation to their ceremony, we go all out. We transform our already luxurious ride into the lap of luxury. Free champagne, red carpets flowing, VIP service for the blushing bride and her whole entourage!
Find the Right Fit For You
This bus may be our biggest and most luxurious but it's not the only cheap party bus we have available for you. In fact, we have a whole fleet of custom-built party buses so you can find one that fits your needs perfectly. Tailor your ride to your party size, your destination, or your budget.
Our various party buses can hold between 10 and 44 passengers (depending on the size of the passengers) comfortably and none of them skimp on the amenities.
This is our smallest (and cheapest) party bus but it still packs a powerful punch. Capable of holding up to 16 passengers in comfort, this bus still boasts:
Leather seats
Color-changing lights
A big flat screen
Awesome audio
And while it is petite when compared to our #44, there's still plenty of room to chat face-to-face, stand, and even dance!
This cheap party bus makes a great choice for small groups of family or friends who want to hit the town (or take a road trip) to celebrate a special birthday or anniversary.
The luxury party bus #30 may be a misnomer. While this cheap party bus is smaller than our big buses, it still holds up to 30 people (depending on the size of the passengers) in the lap of luxury. This sleek black machine offers everything you'd find in either of our large party buses (minus the bathroom and VIP areas) at a more affordable price.
Indeed, you get the whole comfort and entertainment package mentioned above in a more compact size that's great for school class trips, larger wedding parties, and Quinceañera celebrations. And, if you're splitting the cost of this cheap party bus between friends, it could cost you less than a rental car!
This is the granddaddy of all our cheap party buses. It is what everyone pictures in their mind when they think of a party bus—black leather interior with strobing colored lights, chrome accents glittering, sound system pumping, complimentary beverages flowing, and room for up to 44 friends (depending on their size).
The major difference between this ride and our #44 bus is the décor. Which ride is best for you really comes down to a personal preference:  do you like classic style and comfort or is something more modern to your tastes? The choice is literally sultry black or creamy white.
You still get every amenity mentioned above and the added bonus of causing a scene when you arrive wherever you're going.
How Cheap is Cheap?
All of our party buses are affordable (more so than you'd think). Plus, we can easily split your payment between guests so nobody is stuck with the entire bill. So don't let the fear of sticker shock stop you from even considering a party bus for your next celebration. If you're shopping for a cheap party bus in California, get a free quote online or call 714-288-0066 today.
Safety First
Don't let the word "party" fool you. Our professional drivers (thoroughly vetted, tested, and licensed) ensure your safety and security every second of the ride to your destination. That's why Party Bus Rentals are great for school field trips and corporate events alike. We can remove the dancer poles and you can bring your favorite media to display on our multiple LCD video screens.
Whether you need transportation for your little girl's big night at the prom, need to make an entrance at your own wedding, or simply want to reward 44 or so of your hardworking employees with a little "field trip" this Party Bus will be enjoyed by all.

People are genuinely shocked when they show up to check out our "cheap" Party Bus and we show them our 44 passenger luxury ride. It's just not what you'd expect for the price you're paying. But you don't have to take our word for it.
We just used White Rose for the third or fourth time for my daughter's winter formal. We keep coming back because the Party Bus (and other vehicles) are clean, the service is top notch (from reservation, through transport day/night) and I know the kids we are responsible for will have fun, and be safe. – Paul M.
BEST 18TH BIRTHDAY I COULD HAVE POSSIBLY EVER HAD. Our driver Scott L. was incredibly helpful and nice to everybody and allowed us to have the best night of our lives celebrating my 18th birthday. We had the 44 person Luxury Party Bus and in absolutely NO way whatsoever was I or anyone on the bus let down. Everybody had a blast and cannot thank our amazing driver Scott enough for giving us such a great night. I DEFINITELY RECOMMEND THIS COMPANY FOR ANY AND ALL PARTY BUS SITUATIONS! Thank you again White Rose Limousine, this is the ONLY limo service I will ever be using! – Jozik M
I rented the small Party Bus from 5p-12a for my boyfriend's 40th birthday. My experience booking was seamless and professional … the bus was fully stocked, and clean … the evening couldn't have gone better. I definitely recommend them …thank you White Rose! – Brandee W.