Party Buses – San Diego
---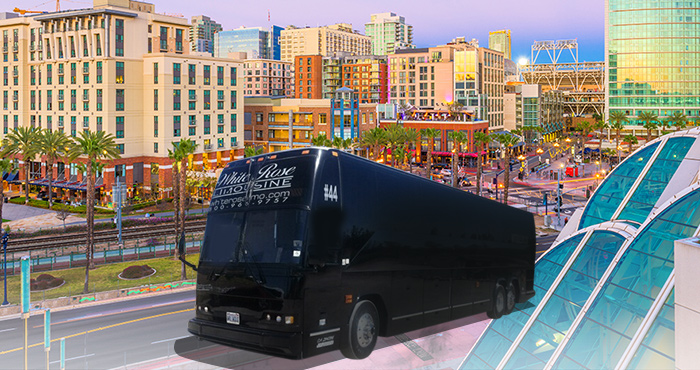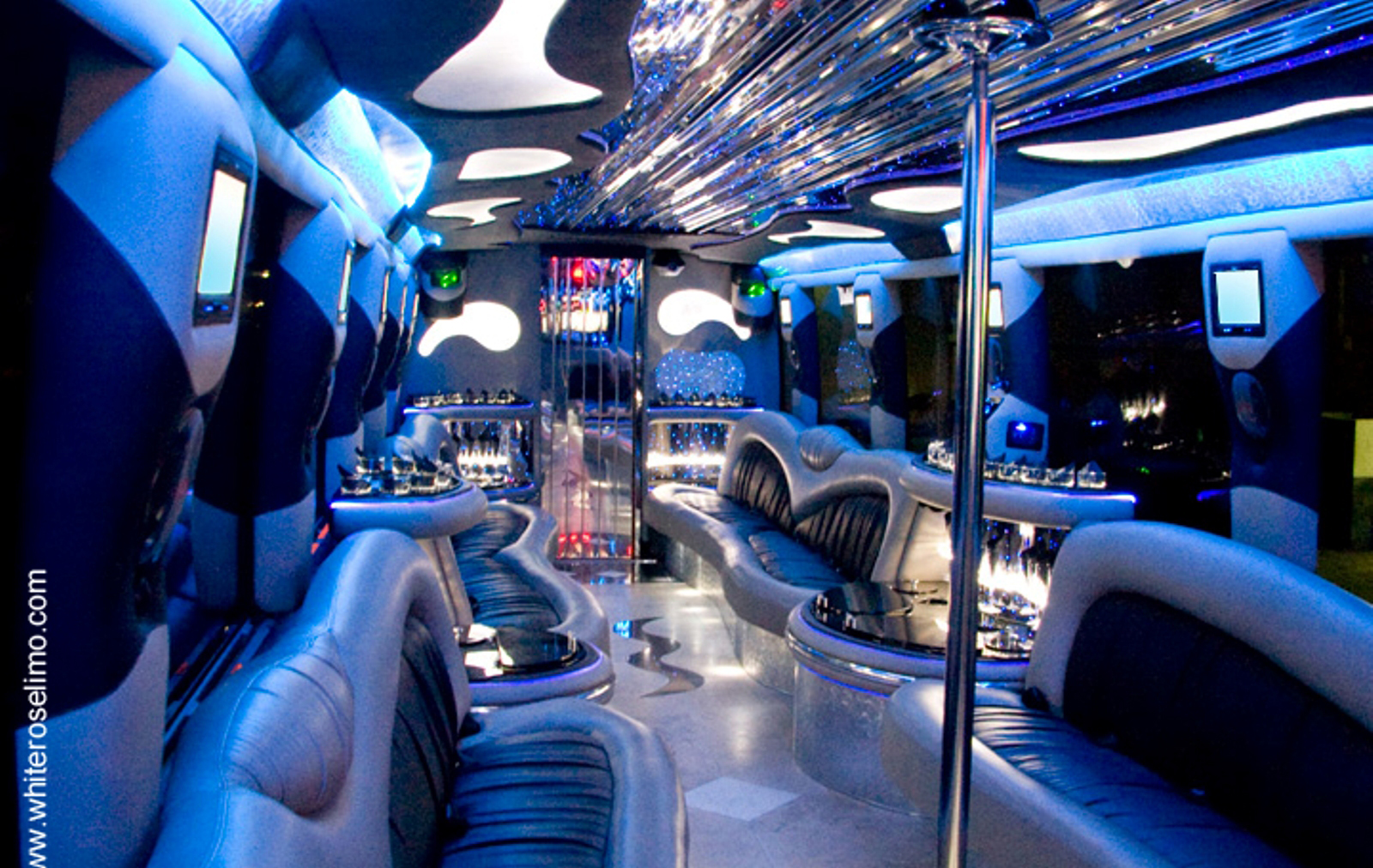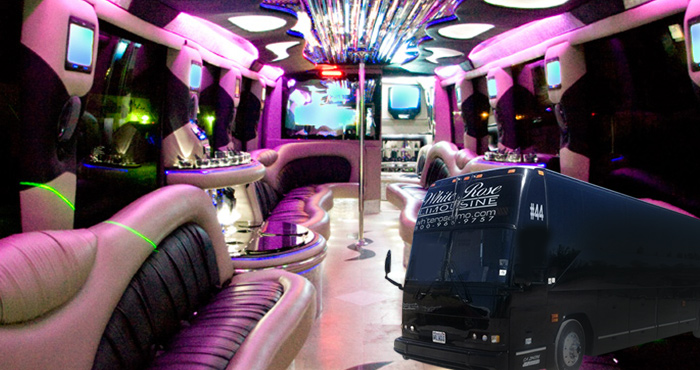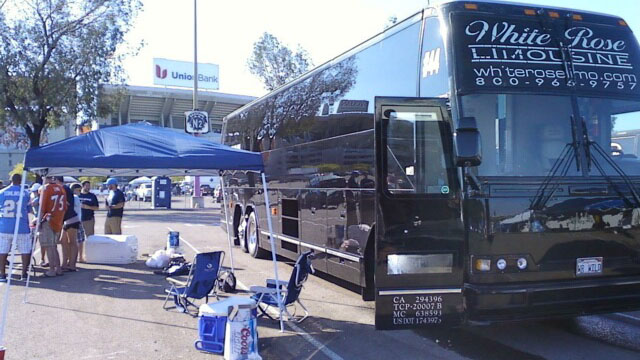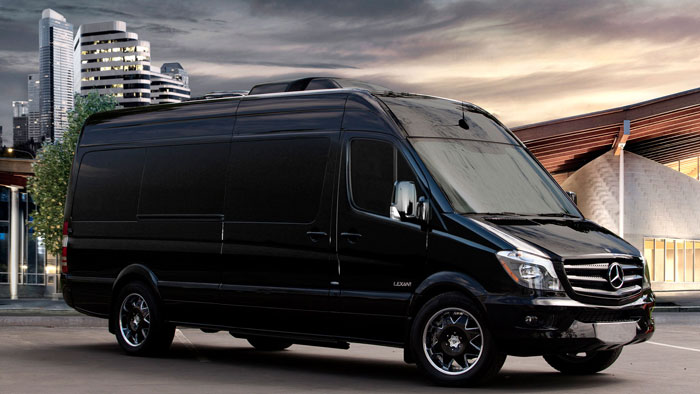 Our party bus in San Diego
can carry you and up to 44 of your closest friends to and from some of the most amazing attractions. San Diego is an astounding city with tons to see and do for all ages. And even if you just have a day or two here, the experiences you create will last a lifetime. From world-class attractions like the San Diego Zoo to iconic landmarks like the Del Mar Racetrack to the kitschy and eclectic Gaslamp Quarter there are new thrills around every corner.
Whether you've lived here your whole life or you're just in town for a day or two, a White Rose party bus in San Diego is the best way to turn any day in California into an exciting adventure. Our rides offer safety, luxury, affordability, and complete and total relaxation for round trips to San Diego or one-way transportation to unique events and attractions.
And the best part about renting a party bus in San Diego is that you and all of your friends and/or family can travel together.
We Get You There in Comfort
White Rose has been providing San Diego party buses for over 30 years and understands that when you're planning an escape, you want to make getting there part of the fun. Our buses come in three sizes to fit any group and include amenities like:
Complimentary Beverages (alcoholic and non)
Surround Sound and Epic Stereo Systems
Televisions and DVD Players
Luxurious Seating
Even Available Light Shows
Whether you're bringing the kids and grand kids to Sea World for the day, the guys to a Chargers game at Qualcomm Stadium, or a bunch of girlfriends to the Gaslamp Quarter for your bachelorette bash, our party buses in San Diego can make the experience unforgettable.
A Party Bus in San Diego for Every Group (Large or Small)
White Rose has the perfect party bus for your next outing in San Diego no matter how big or small your group is. We have buses that can accommodate as few as ten guests. We have buses that can hold up to 44 passengers* in leather-wrapped luxury (depending on the size of the passengers). And we have buses to fit any group in between. So whether you're planning an all-out night out with your entire address book or just something exciting with a few family members we can get you there in style and comfort. Plus, these multiple options make finding the perfect party bus in San Diego easy on ANY budget.
Indeed, our unique payment processing system allows you to split the bill for your party bus in San Diego among all the passengers. No more getting stuck footing the whole bill or covering for your one friend who always seems to forget their wallet. And even if you're not splitting the bill, we offer special rates for non-peak times so you can still experience all of the luxury and excitement at a fraction of the price you'd expect to pay.
But what do you get for your money? If you've ever rented a party bus in San Diego before and been disappointed by the bus that showed up at your door, you're in for a surprise.
Every one of our party buses has been modified – tricked out from the frame up – to create the ultimate ride bathed in one-of-a-kind comfort and luxury. No matter the size you choose, you get ALL of the luxury amenities mentioned above.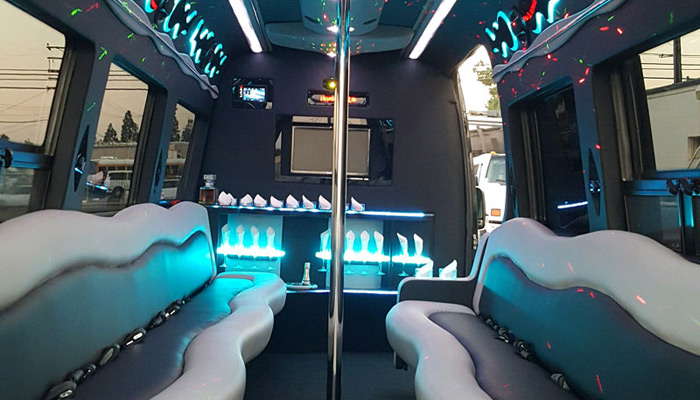 This is one of our smallest party buses that can carry up to 16 passengers*, leaving enough room to stand or even dance. It's great for small office groups, tiny class trips, intimate bachelor/bachelorette parties, or epic family road trips. And because it's our smallest party bus, it's also our most affordable! This bus offers a great value to students (or their parents) who are looking for an unforgettable way to get to and from prom, Winter Formal, homecoming, or any other special event on the school year calendar. View now >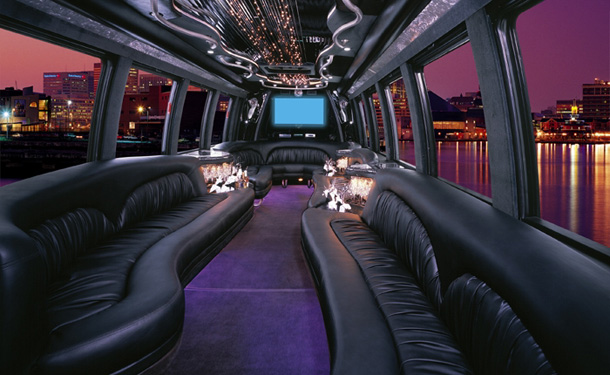 Sometimes called the "mini party bus," this custom creation really isn't "mini" at all! The only reason the name fits is that it's slightly smaller than our big buses. It can easily hold up to 30 passengers* and comes kitted out with every bit of luxury you'd expect to find in one of our massive buses but on a smaller scale. This bus is great for class trips, Quinceañeras, large wedding parties, and corporate team building outings. View now >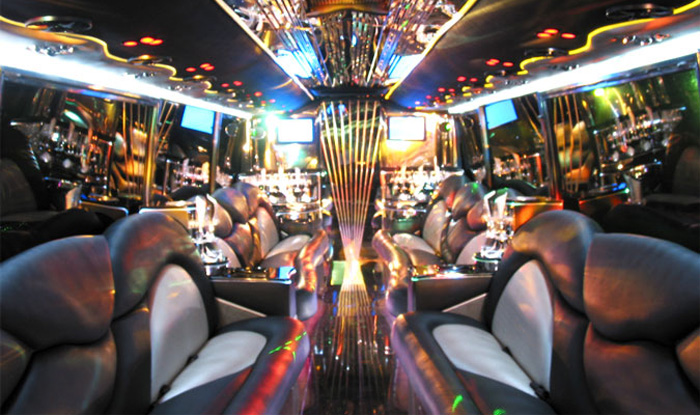 This is our original party bus. The granddaddy of them all, it features a classic black leather interior and glossy chromes accents on the exterior. This luxury coach was customized by hand by our skilled craftsman to deliver accents that will astound. If you have an exceptionally large social circle but still want to arrive in style, this is the San Diego party bus for you. View now >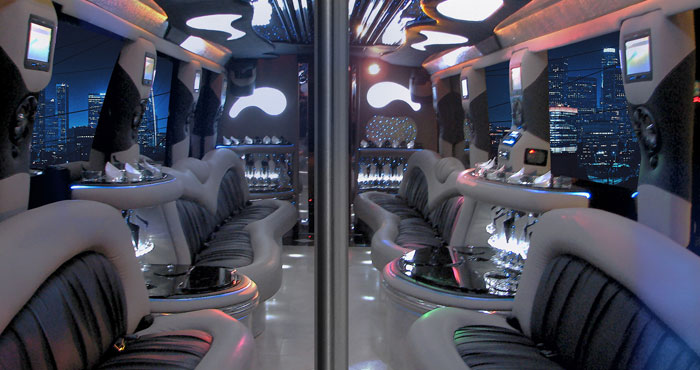 Our largest and most luxurious San Diego party bus features a creamy leather interior with multiple modern updates including a huge flat screen and private VIP area. This party bus is perfect for big personalities who want to make the absolute best impression on family and friends or who want to go wine tasting in Temecula. View now >
*How many people fit comfortably depends on the size of passengers
Our party buses are not just buses. Unlike some other companies in the area that offer mass transit options for large groups, White Rose specializes in luxury travel and VIP guest experiences. To that end, we've specially crafted each of our buses with one-of-a-kind additions (often hand-built in our very own manufacturing facility). This attention to detail is reflected in everything from the choice of upholstery to the stereo components—everything is designed to give you and your guests an unforgettable experience, not just another bus ride.

Where Our San Diego Party Bus Rentals Can Take You
Our party buses in San Diego are ready and able to take you and your family, friends, coworkers, church group, or social set pretty much anywhere your imagination can conjure up within a 700-mile radius. Unlike some other party bus rental companies in San Diego, our drivers are specially trained and licensed for interstate travel and can even cross the border into Mexico! That means when you ride with us your imagination is the limit.
Where will you go when you can visit anywhere in California, all of Nevada, and even selected destinations in Mexico?
The next time you need a party bus rental in Carlsbad for a family vacation, party bus rentals to Temecula for wine tasting tours, or even a party bus to get the whole fam to Ram's stadium for a special birthday gift, give us a call.
Need help deciding how to make the most impact on a limited budget? Our helpful office staff can offer destination suggestions, create custom entertainment packages, and help you put a personal touch on any of our party bus rentals in San Diego.
But you don't need to travel far to have an amazing experience in one of our party buses.
Staying local? Making a short day trip? Don't want to spend 700 miles in a bus full of kids? If you need other close-by destination/getaway ideas to stimulate that sense of adventure, read on for a list of local landmarks previous satisfied riders have used our party bus rental service to travel to inside San Diego city limits.
Gaslamp Quarter – Shops and restaurants couched in authentic, lovingly restored 19th Century architecture — San Diego's Gaslamp Quarter is the perfect marriage between old and new. Visitors come from all over for the shopping and entertainment. And with over 70 stores, 70 nightclubs and restaurants, the Gaslamp Quarter is the perfect entertainment destination day or night.
San Diego Zoo – Hundreds of exotic animals, dozens of first-hand experiences, and thousands of smiles – The zoo is the perfect educational vacation stop for the young and the young at heart. A trip to the zoo makes a great day trip for large family groups, school students, and special civic groups (Boy and Girl Scouts, Youth Camps, Church Groups, and more!)
Sea World – One of the world's most well-known theme parks and oceanariums right in sunny San Diego! Come experience rides you won't find anywhere else (including the Bayside Skyride). Then visit with dolphins, penguins, sharks and more!
Del Mar Racetrack – The premiere horse racing facility in California! The Del Mar Racetrack is home to world-class thoroughbred racing, Del Mar's Friday Night Concert Series, and Family Fun Day every Saturday and Sunday throughout the season.
Qualcomm Stadium – Home of the San Diego Chargers and the San Diego State Aztec football teams, the stadium also plays host to numerous events throughout the year including the Street Scene, one of San Diego's premiere music festivals.
Legoland San Diego – A massive Lego-inspired theme park (with water park and aquarium attached) Legoland San Diego is a place where your child's imagination can run wild. With dozens of rides, interactive experiences, and (of course) Legos galore you may not be able to see it all in one day.
Regardless of where you end up, a White Rose party bus will ensure that getting there really is half the fun.

Party Buses in San Diego for Special Events
Party Buses in San Diego can offer more than just transportation. Travelling in style can keep the party rolling and make getting to your destination part of the experience. Most people rent a party bus in San Diego for a one-time special occasion (such as a wedding) but our rides are the perfect solution anytime you want to make a big splash. Your guest will remember this special excursion for years to come. You'll have so much fun that you'll want to do it again!
Indeed, many of our satisfied clients have made their fun getaways annual occurrences that their friends and family look forward to all year long.
Below are just some of the fun memories that we have been happy to help people create.
Weddings
Your wedding may very well be the most important day of your life. Our luxurious party buses in San Diego can make that day unforgettable. Rent one for your bachelor/bachelorette party or to bring the whole wedding party from your ceremony to the reception venue. Complimentary cocktails, state-of-the-art stereo systems, fog machines, light shows, and more – these party buses really are a club on wheels.
Family Reunions
Getting far-flung family together can be a bit of a hassle. The logistics can get complicated when you consider transportation, lodging, food, and entertainment. And the more people you add, the more stressful planning a reunion can be. We can help alleviate some of that stress by offering safe, reliable, and affordable group transportation from gathering locations (like the airport) to destinations of your choice, including any of San Diego's world-class attractions (SDCCU Stadium) or the private reunion venue you've chosen. We offer door-to-door service and our buses (and drivers) will be on stand-by waiting at your beck and call for the duration of your rental if plans change in the moment.
Club Hopping
Everyone needs to cut loose once in a while and our party buses in San Diego let you do that safely. Whether your destination is downtown or in the Gaslamp Quarter we'll make getting there a blast. Enjoy the complimentary bar, dance floor (with dance pole), and the interior light show as you travel from one club to another. And when it's time to go home, our professional drivers will get you there safe and sound.
Holiday Parties
Regardless of what holiday you celebrate, make your annual gathering a little more remarkable with party bus transportation for everyone! Holiday light tours, cozy family getaways, fancy dress/dinner parties, and annual corporate events deserve a little spicing up and our luxury rides are just what the season needs.
Other Group Events
When it's time to dial the party down a notch, our party buses in San Diego can offer a fun and unique way for groups of any stripe to get from Point A to Point B. School groups, church groups, corporate groups, tour groups and more will enjoy the luxurious (and spacious) accommodations as they travel in style and safety. Our party buses in San Diego have the best reputation and safety record in the industry.