Party Bus Los Angeles
---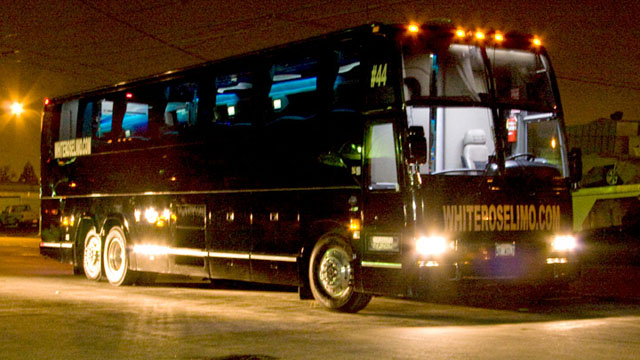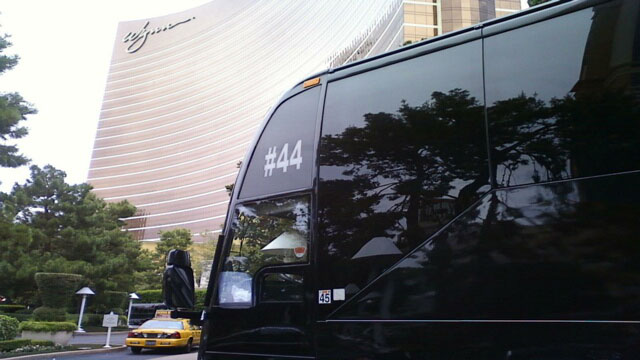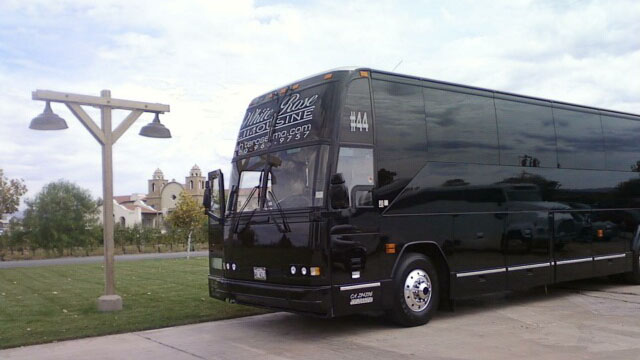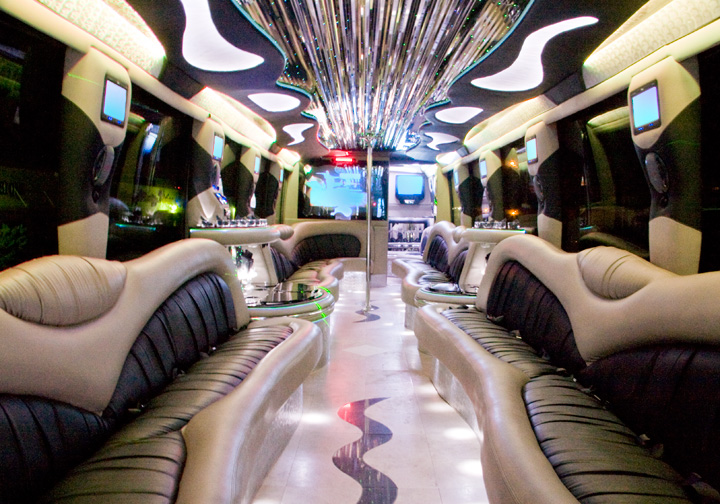 Y
ou've come to the right place for the perfect party bus rental in Los Angeles for your next special event. Our entire fleet of party buses has been custom-built with one-of-a-kind amenities to provide you and your guests a luxurious experience you just can't get anywhere else. When you want the style, elegance, and comfort of a limousine but have too many friends or family to fit, or if you need a little extra room to celebrate before you even get to your destination, a party bus rental in Los Angeles is the perfect group transportation option for you.
A VIP Experience from Start to Finish
If you want to feel like a Hollywood A-Lister when you roll up to the club or step out to that Red Carpet wedding experience, our party bus rentals are what you need.
When you rent from White Rose, you get more than group transportation at an affordable price. You get an experience unlike any other. Our expert customer service staff can help plan your event transportation from start to finish with:
Customized transportation packages to fit any group size or budget
Door-to-door service anywhere in Los Angeles and surrounding Southern California, Nevada, and coastal Mexico
Luxurious rides capable of holding between 16 and 44 passengers comfortably
Destination or venue suggestions for any type of event from weddings to class trips and anything in between
Customized amenities including:

Personalized interior decorations
Red Carpet rollout upon arrival
Favorite beverage selections
Licensed professionals who become your personal driver for as long as the party bus is yours
Some of our larger party bus rentals in Los Angeles even come with exclusive VIP rooms!
So whether you're booking a trip for the family to a Dodger or Lakers game, or a massive club crawl with the girls from work, come see how affordable a party bus rental in Los Angeles can be.
A History of Satisfied Clients
We don't just provide party bus rentals in Los Angeles. We provide a hassle-free experience from the moment you first contact us. Our past clients have been so satisfied with our vehicles and our service that they've recommended them to friends, family, and even perfect strangers for years. We've served Los Angeles, Orange County, The Inland Empire, San Diego and hot spots in Nevada (like Las Vegas and Reno) for ages – providing friends, families, and coworkers with unforgettable experiences. We now even book private charter bus excursions from Los Angeles to destinations in Mexico like Valle de Guadalupe's Wine Country and seaside escapes like Puerto Nuevo and Rosarito Beach.
We've helped people put the finishing touches on:
Weddings
Quinceañeras
Bachelor/Bachelorette Parties
Birthday Celebrations
Reunions
Retirement Parties
Holiday Festivities
Office Parties
Class Trips
Prom/Winter Formal Evenings
Personalized Winery, Brewery, and Distillery Tours
And so much more!
A party bus rental in Los Angeles is the perfect group transportation option for pretty much any event from mild to wild.
The Perfect Party Bus Rental in Los Angeles for Your Group
But which party bus rental in Los Angeles is right for you? Consider the size of your group, your budget, and your destination of choice.
Have 40 or more friends you want to take out on the town for a once-in-a-lifetime celebration? We can help you do that. Have a small group of students planning a class trip to one of Southern California's gorgeous seaside towns? We can accommodate. Have a tiny group of friends you want to pile in the bus for a no-holds-barred bachelorette party in Los Angeles? We can help there too.
White Rose offers a full variety of party bus rentals in Los Angeles from luxury 44-passenger* buses right down to miniature 16-passenger buses that still pack all the party punch.
Not sure which party bus is right for you? Read on and we'll give you the highlights for each of our custom-built party buses.
This is the perfect party bus rental in Los Angeles for small groups. This bus can hold up to 16 passengers but still has room enough to stand (or even dance). Plus you get all the party bus amenities you might expect including:
Leather seats
Color-changing lights
Excellent sound system
Large flat screen video monitors
Complimentary beverage bar
This tiny little party bus packs a big punch and is perfect for:
Bachelor/bachelorette parties
Office outings
Intimate wedding party escapes
School, church, or charity group transportation
The name is a bit misleading. This full-fledged party bus rental in Los Angeles can hold up to 30 passengers* comfortably. So why rent it instead of the big 44-passenger* buses we offer?
This party bus has all the luxury you'll find in one of our bigger buses (leather seats, excellent entertainment system, complimentary Vodka, Bourbon, Champagne, Brand name sodas & more) but it's got a smaller footprint. That means it:
1. Is easier to get into tight spaces
2. Allows guests to interact without the need to yell (unless you turn the music up too loud)
3. Is a little less ostentatious on the outside (if you're not into making a big splash when you arrive)
4. Is much more affordable
That makes this luxury party bus #30 rental in Los Angeles perfect for:
Family groups (reunions, birthday parties, anniversaries)
Corporate groups (convention, team building, and trade show transportation)
Class trips (all "adult" aspects can be easily removed (including dancer poles and alcoholic beverages) to make your party bus kid-friendly)
Plus, if your group is on a tight budget, this party bus rental in Los Angeles allows you to make that impactful impression on your guests without overspending.
This party bus is the classic! It's one of our most illustrious custom-built party bus rentals in Los Angeles. It comes fully equipped with everything you may have imagined upon hearing the words "party" and "bus" put together. You get limousine-like luxury on a much larger scale, making this the ride you need if you want to hit the town in epic proportions.
Capable of holding up to 44 passengers with ease, this classically elegant ride is great for:
Large personal parties (bachelor, birthday, anniversary, wedding, etc.)
Entire companies (team building excursions, retirement celebrations, year-end revelry)
Extracurricular school team activities (we are SPAB certified)
And, as with all our party bus rentals in Los Angeles, we can tailor the bus to your specifications with custom decorations, favorite beverage selections, destination suggestions, and more.
This is our ultimate luxury ride. With a creamy tan interior and an upgraded entertainment package, this party bus gives your guests the VIP experience they deserve. In fact, there's even a private area at the back of the bus so you can make the Guest of Honor feel like a king or queen for a day.
Of course, you get all the luxurious trappings you'd find in any of our other party bus rentals in Los Angeles but this machine ratchets your night out up to Hollywood A-Lister status.
Book Your Party Bus Rental in Los Angeles Today
Group transportation to or from Los Angeles with air-conditioned, leather-lined luxury just got easier.
Contact the helpful customer service staff at White Rose Limo to book your party bus rental in Los Angeles today. Still not sure which is the right bus for you? You can arrange a time to see one or all of our buses in person so you can get that all-important first impression yourself.
Get a free quote online or call 714-288-0066 to speak with a friendly representative now.
*How many people fit comfortably depends on the size of passengers

I booked your Party Bus for my sister's Birthday. I can't even tell you how impressed she was when it arrived. There were 30 of us total and we had a great night thanks to this fab bus and the driver, Ed.
I just used your company last Saturday for my daughters Homecoming. I booked the Limo Bus, all the parents were very impressed with it when it arrived. I would like to thank your company for all the professional people I worked with at your office. I was stressed that another company would show up and there would be no bus and I would have to deal with 40 teenagers and 40 parents upset with me!

Everything worked out great. The bus was a hit and was very clean when it arrived! We will definitely book your company again for Prom. And will soon book the limo for our Christmas Dinner Party in December. – Martha Alaniz
In Los Angeles, there are many different reasons and occasions to use a Party Bus Rental. Granted, sometimes its for partying and sometimes its just for transporting large groups. There is always something to do, something to see, and somewhere to be in this fabulous city.
Q: What are the benefits of renting a Party Bus?
FUN – Renting a party bus in Los Angeles makes it possible for you, your family and friends to relax to and from your event. You don't have to wrestle with confusing directions, GPS systems, overcrowded parking lots, and losing other drivers in the caravan. When you all get to ride in the same vehicle—even if there are 44 of you—it makes the entire outing more pleasant and fun.
DESIGNATED DRIVER – With a large group there's always the question of who will take on the responsibility of driving. The driver is in charge of getting everyone in their car and to the destination safely. They end up paying for gas, tolls, and they may even have to skip the bar. But when you choose to use a party bus rental, Los Angeles is literally at your fingertips and WE are your designated driver.
HASSLE FREE – Renting a party bus makes everything easier and headache-free when you need to transport a large group to or around Los Angeles. You can have a great time with everyone in the group while en route to your destination and then get dropped off and picked up at your front door. It's fun, it's easy, and it gets everyone from point A to point B in style.
Q: How many passengers do your party buses fit?
Luxury Party Bus – Fts up to 44 passengers
#30 Party Bus – Fits up to 30 passengers
Sprinter Party Bus – Fits up to 16 passengers
Q: Can Businesses use these Buses?
Absolutely! If your needs are a little more serious, the Party Bus can be all business. It's no stranger to the airport where large group pick-ups are a regular thing. They are also great for a variety of corporate functions like holiday celebrations and company parties.
Corporate party bus rentals are designed to suit your individual needs and enhance the overall experience of your event or function. They make things easier on you and your group, which is sure to make the event a success.