Party Bus Manhattan Beach
---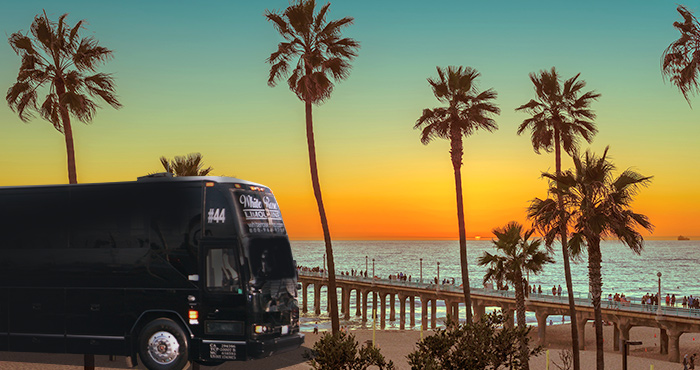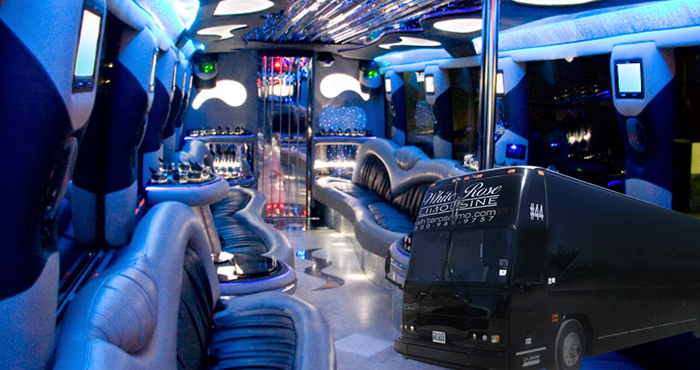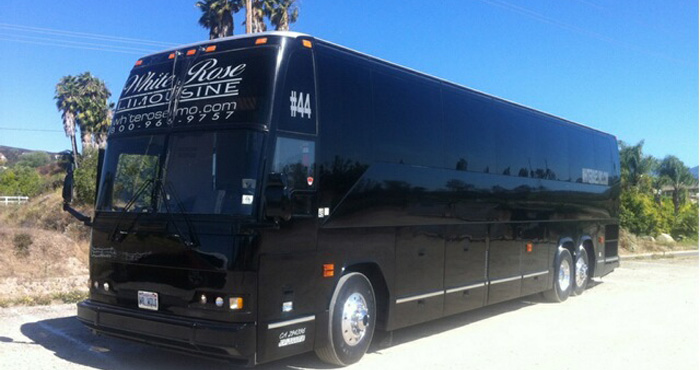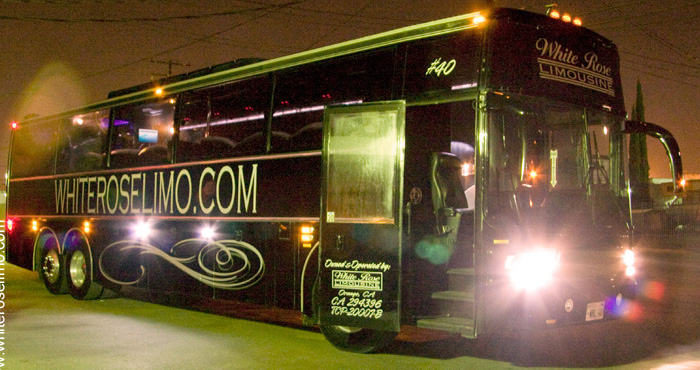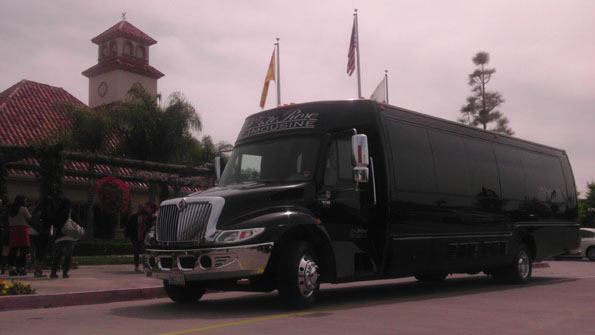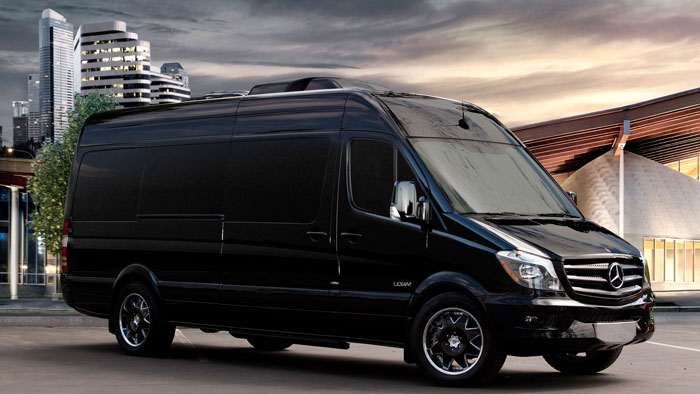 Looking for the perfect way to get a large group of friends, family, students, coworkers, or your entire social group safely to Manhattan Beach without hassling with traffic, parking, and complicated seating arrangements? Renting a party bus in Manhattan Beach allows you to take full advantage of this wonderful seaside village and all the great attractions it houses without any of the headaches.
Whether you're travelling with ten people or forty-four, White Rose Limo has the perfect party bus for your Manhattan Beach daytrip. We operate throughout South Bay, Orange County, and Los Angeles—pretty much anywhere in Southern California—so get in touch and start planning your Manhattan Beach getaway today.
How to Pick the Perfect Party Bus
There's more to picking the perfect party bus rental to Manhattan Beach than just reserving the first ride you see. You're going to want to take into account:
How many people you'll be travelling with
What your budget is
Whether you're splitting the cost
What sort of amenities you're looking for
How wild (or mild) your crowd is going to be
Where you'll likely be stopping in Manhattan Beach
Thankfully, White Rose's fleet of party buses in Manhattan Beach is varied and offers you a ton of options to choose from. Not only do we have multiple buses of different sizes and passenger capacities, we also offer a variety of amenities in each bus including:
Your choice of complimentary alcoholic and/or soft beverages (custom requests available)
Electronic entertainment packages (capable of playing music, movies, and more)
Dynamic lighting experiences (color-changing LED's, strobes, etc.)
Removable dancer poles
Customizable interior decoration*
Our Party Buses
The Big Party Buses: #40 and #44
These big party buses can each hold up to 44 passengers* in comfort and luxury. When you're trying to picture what each of these custom-built machines looks like, think about the most glamourous limousine you've ever seen then picture it twice as big, twice as bad, and twice as entertaining. You get all the luxurious trappings of the finest limousines including:
Leather-lined interiors
Complimentary beverage bars
Mood lighting
Custom electronic entertainment packages
And so much more!
But you also get more room for more friends, more family, and more fun. In fact, our party buses are spacious enough that you can even dance while the party is rolling down the road!
These big luxury party buses in Manhattan Beach are perfect for:
Large Wedding Parties
Gigantic Family Reunions
Oversized School Groups or Sports Teams
Killer Bachelorette/Bachelor Parties
The Ultimate Sweet 16
The #30 Party Bus
Don't need something so big? That's no problem. White Rose's custom-built 30-passenger "Mini" party bus is the perfect luxury ride for smaller groups that still won't fit in a traditional limo. With this powerhouse you get all of the fun and excitement of a large party bus on a slightly smaller scale. You still get:
Luxury leather interiors
Complimentary beverage bars
Removable dancer poles (not sure)
Custom electronic entertainment packages (including dynamic lighting packages)
Plenty of leg room
This smaller party bus in Manhattan Beach fits the bill for
Intimate Wedding/Reception Parties
Mid-Sized School Class Trips
Birthday/Anniversary Parties for Close Family
Facebook Group Outings
Coworker Convention and Team Building Travel
Probably the biggest benefit of renting a smaller party bus in Manhattan Beach is the smaller price tag—which can easily be split between all or even some of your guests.
This is our smallest party bus rental in Manhattan Beach—but don't let that fool you. This luxury bus has been completely retrofitted with custom-built comfort and many of the same amenities you'd find in one of our biggest buses.
Capable for holding 16 passengers* in leather-lined comfort, this Mercedes Sprinter Party bus is perfect for:
Birthday Parties in Manhattan Beach
Budget-Minded Quinceañera Planners
Small Groups of Coworkers
The Wedding Party Itself
A Girl's (or Guy's) Night on the Town
Any Weekend Getaway in Manhattan Beach
Plus, our Mercedes Sprinter Limo Bus is not only roomier, it's easier to get in and out of, making it the perfect party bus in Manhattan Beach for guests with mobility issues.
Why Rent a Party Bus in Manhattan Beach?
Large Group Transportation Made Easy
Renting a party bus in Manhattan Beach is simply the best way to get a large group of people to this beach getaway destination from anywhere in South Bay or further away in Southern California. As a historic seaside town, Manhattan Beach is cramped and struggles to cope with its newfound popularity. That means that parking in Manhattan Beach is always a premium. Finding a spot by itself can be a challenge and most spots are two-hour parking only—not nearly enough time to fully explore this quaint and exciting little ocean playground.
Your party bus rental will pick you up at your door, deliver you to Manhattan Beach, and hang around for anything you need until it's time for the ride home.
So, if you've always wanted to see Manhattan Beach, or if you're interested in visiting one of the excellent attractions here with a group that's just too big to fit in one vehicle, consider renting a party bus in Manhattan Beach. Our rides are more affordable than most people imagine.
Fun for Everyone
If you're planning a bachelor or bachelorette party, a night of clubbing, a pub crawl, or just a no-holds-barred escape to the seaside treasure that is Manhattan Beach, a party bus just may be the perfect ride for you.
When you rent a party bus in Manhattan Beach, it is fun for everyone. Nobody gets stuck being the DD. None of your guests have to fight with traffic or try desperately to find that one last remaining parking spot. You don't have to worry about getting parking tickets, falling asleep on the ride home, or arranging carpool transportation for all of your friends.
A party bus lets everyone in your group enjoy the day, evening, or nightlife without any hassle to dampen the fun.
Not All Parties Are Create Equal
Don't let the "party" in party bus fool you. While our rides were originally intended to give groups of partiers an easy way to hit the town and take the party to the next level, White Rose has been renting party buses in Manhattan Beach to groups of all sorts. From school groups and church groups, to students headed to prom, to senior groups, to corporate team building excursions—our party buses can be as wild or as mild as you make them.
What to Do While in Manhattan Beach
Not quite sure what Manhattan Beach has to offer a large party of friends, family, and coworkers? There's more to this California beach town than you might first suspect.
Shopping
Luxurious little boutique shops await around every corner. From art, to fashion, to collectibles—you'll find whatever your heart desires here. Spend a day strolling The Strand, have breakfast, brunch, lunch, or dinner, and hit a hotspot for a cocktail or two all while shopping until your heart is content.
Restaurants
From traditional seaside fair (seafood and the old surf and turf) to adventurous offerings like Pan Asian Cuisine, Manhattan Beach is a foodie's paradise. Take out joints, sit down restaurants, bistros, and pubs—you'll find them all. Make a day of it and eat exceptionally from breakfast through dinner!
Bars, Pubs, and Assorted Night Life
From family friendly restaurants and pubs like Mr. Pockets Sports Grill and Billiards to Adults-Only "dive bars" like Ercoles 1101, Manhattan Beach has something for everyone. Plan a chill night on the town or really live it up—the choice is yours.
Educational Exhibitions
Student groups love the educational attractions in Manhattan Beach. Two of the most popular include the Roundhouse Marine Studies Lab and Aquarium and the Manhattan Beach Botanical Garden. The first is an exhibit-packed aquarium located inside the two-story "shack" on the end of Manhattan Beach Pier. The second is a lovingly created monument to California's native coastal flora and fauna. Both are open to the public. Both offer guided tours. Both offer special educational classes/seminars. And both can be "rented" for an hour or the whole day.
Spas
Maybe some of your group wants to hit the beach while others want to relax. There are a ton of great little day spas right in Manhattan Beach but the most popular is Trilogy Spa. Here you can get massages, facials, and more (including a romantic couples massage). So don't think a day at the beach means getting hot and sweaty in the sun.
Reserve Your Party Bus to Manhattan Beach Today
Don't know which party bus best suits your needs? Give our helpful staff a call and arrange a time to see any of our buses in person. We can help you with itineraries, travel planning, custom decorations, and more to make your Manhattan Beach getaway nothing short of amazing.
Get a free quote online or call 714-288-0066 today.
*Guests can customize any party bus experience with decorations of their choice. Flowers, balloons, banners, and more can all be added—with advanced notice. Contact our helpful party bus planners to reserve a time to decorate the bus yourself, have the vendor of your choice do the work for you, or—if you purchase the decorations yourself—we can decorate at no extra charge. Want to make a splash when you arrive? Rent our special Red Carpet (usually reserved for wedding parties only) and look like Hollywood Royalty.
*How many people fit comfortably depends on the size of passengers