Luxury Party Bus #40
---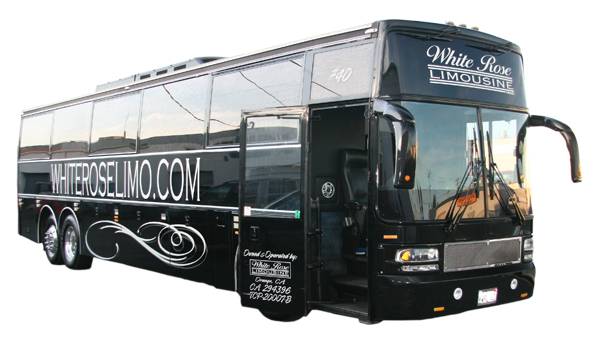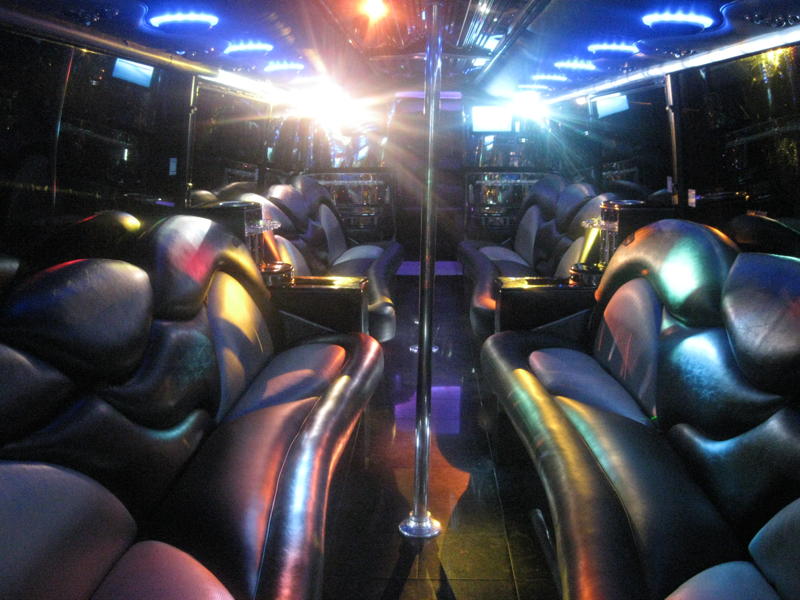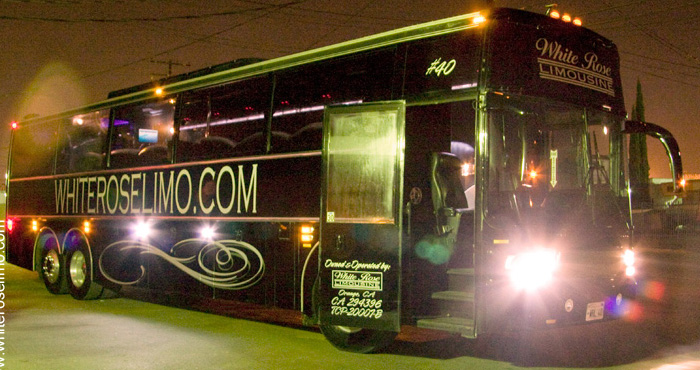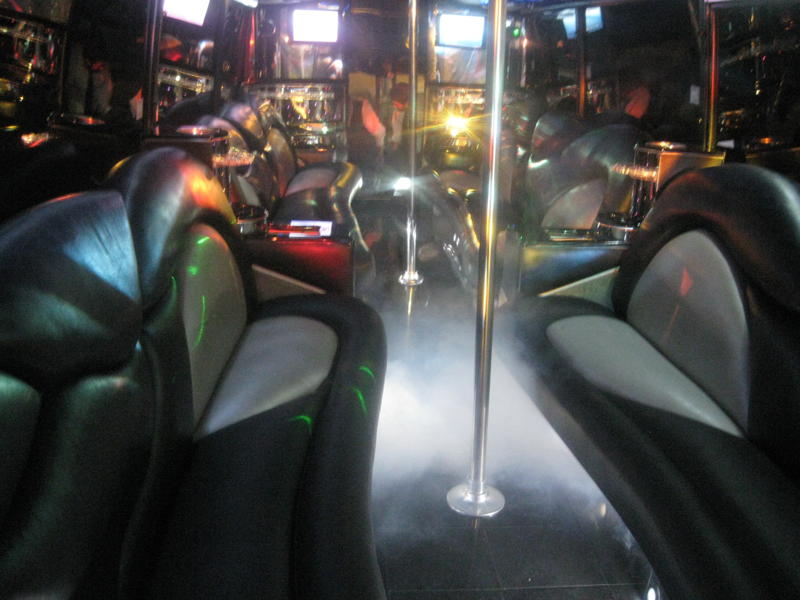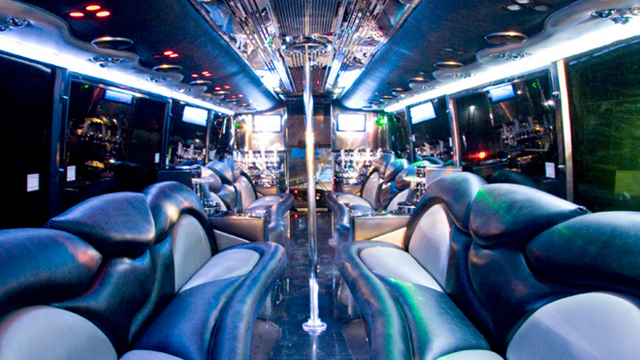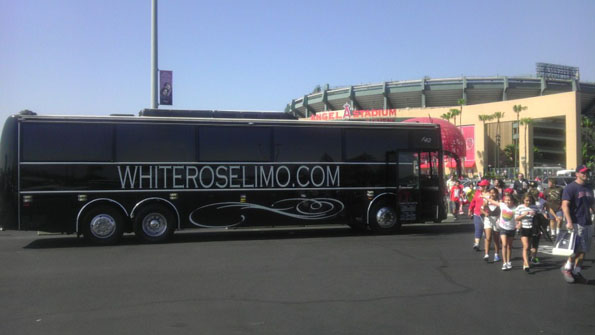 Party Bus Features:
These party buses, manufactured in Orange County, meet custom-specifications, essentially making them mobile nightclubs on wheels. These rides are equipped with high-end touches—from leather interiors to laser light shows—you'll not see anywhere else. From the latest in multimedia entertainment to complimentary beverages and elegance in style these rides turn any outing into an "event."
Fits up to 44 Friends & Family Comfortably
(depending on their size)
Sleek Black Exterior w/ Classy Black & Tan Leather Interior
Kicking Surround Sound w/ Thumping Sub-Woofers & Powerful Amps
Private VIP Room in the Back
Chrome Dancer's Poles
Laser Light Show
Fog
4 Color Disco Lighting (Beats to Music)
Marble Floors w/ Under-Seat Lighting
Fiber Optic Lighting (4-color)
Strobe Lighting
Multiple LCD TVs Throughout
Massive Big Screen TV
Onboard Bathroom (to Keep the Party Rolling)
Custom Rims (So Everyone Sees How You're Rollin')
Beverage Bar:
Our party buses roll in Orange County and beyond equipped with a beverage bar. That means we provide all the glassware and ice and you bring your personal favorites. Popular base bottles people bring on board typically include:
Tequila
Bourbon
Champagne
Orange Juice
Bottled Water
Sodas
Party buses in Orange County can make any special event one for the history books. And you can bring everyone along for the ride. Why settle for a limousine when you can take up to 44 of your closest friends, family or colleagues in air-conditioned comfort while the beats bump and the lights dance to the music?
Booking party buses in Orange County for birthdays, proms, Winter Formals, and weddings can take extraordinary once-in-a-lifetime events over the top and put an extra special spin on an already special event.
I just used your company last Saturday for my daughters Homecoming. I booked the Limo Bus, all the parents were very impressed with it when it arrived. I would like to thank your company for all the professional people I worked with at your office. (I was stressed that a different company would show up last minute without a bus and I would have to deal with 40 teenagers and 40 parents upset with me!) Everything worked out great. The bus was a hit and was very clean when it arrived! We will definitely book your company again for Prom. And will soon book the limo for our Christmas Dinner Party in December. – Martha Alaniz
It's Cost-Effective (No, Really!)
Renting party buses in Orange County is actually a lot less expensive than you might think. The 44 Passenger Party Limo Bus is fantastic for large group events such as prom, tailgating parties, or corporate events etc. By spreading the cost out per person, you're getting much more bang for your buck. Think about it. Renting a town car or limousine for your event is great but you're only going to be able to cram a few of your closest friends in. With a party bus you can fit the whole gang!
Not to mention that these truly luxurious party buses in Orange County deliver more safety and convenience than driving yourself. You don't have to worry about reserving a designated driver, getting lost, paying for parking, picking up and dropping off everybody who wants to come—that's just too much hassle. Tell us who is tagging along, where we can pick them up, then sit back and enjoy the ride—with a complimentary cocktail or two!
It's a Nightclub/Movie Theater/Dance Floor on Wheels!
But what really makes these party buses in Orange County truly spectacular compared to the rest are all the toys inside! Each custom-built bus has multiple flat screen TVs, fog machines, lighting (including LEDs, strobe, and laser light shows) dancer poles, and a VIP room at the back!
Whether you want to dance the night away, relax with one of Hollywood's latest blockbusters (or kid-friendly favorites), or pump up the jams while you enjoy a drink, your excursion is as wild or as laid back as you want it to be.
These buses really are parties on wheels. In fact, many of our satisfied customers say they had more fun on the bus then when they got to their destination! Hassle-free entertainment, luxurious accommodations, and safety on the roadways—what could be better?
Pro Tips for a Good Time: Don't hesitate to schedule some on-bus entertainment. Bring your own music, DVDS, or live entertainment and we'll get you where you're going without any of the headaches. Plus some snacks are always a good idea.